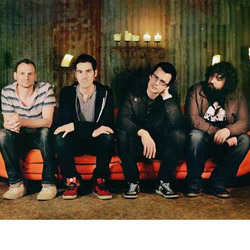 The Digital Age to Release Debut Project 'Evening:Morning' on August 13
Monday, April 08, 2013
Newly signed Fair Trade band The Digital Age is set to embark on a new musical venture with the release of their debut album
Evening:Morning
on August 13. Finishing off a wildly successful decade-long career with the David Crowder*Band, including a capstone sold-out tour, a No. 2 release on the
Billboard
200, and a final performance before over 42,000 college students at Passion 2012, the four band members, Mike Dodson (Mike D), Mark Waldrop, Jack Parker and Jeremy Bush (Bwack), formed The Digital Age as an extension of the ministry that started over a decade ago.
"While The Digital Age feels like a brand new chapter for us, it's really a continuation of what the David Crowder*Band was all about. The mission remains the same," says guitarist and vocalist Mark Waldrop. "The Digital Age exists to make music that bridges the gap between our mainstream culture and our Christian faith."
Eager to begin recording and creating music again after an 8-month break from the road, The Digital Age re-introduced themselves in their
Rehearsals
EP last summer. The independent EP quickly shot to the No. 1 spot on the iTunes® Christian Albums chart and gave critics and fans an early peek at a promising musical future for the group.
The tracks off of their debut
Evening:Morning
were written in a quasi-conceptual, temporal fashion, moving through the night to the morning. Living up to the technological traits of their name, The Digital Age has teamed up with Science Lab to create an interactive music video experience for fans with the track "Believe" off of
Evening:Morning
. Filmed and edited in the band's new studio Asterisk Sound in Waco, TX, the music video is a visual mixer that allows fans to mute, solo and spotlight all four of the band member's contributions to the song, bringing into focus a number of visual combinations of the performance. The interactive video is available on their website at
www.thedigitalagemusic.com
.
This May, The Digital Age will embark on the "I Have A Dream" Tour in select cities nationwide. Performing alongside the likes of The City Harmonic, 33 Miles and Remedy Drive, concertgoers will have the chance to get their first glimpse of the re-invented live experience from these veteran musicians. For tour information and tickets, visit
www.thedigitalagemusic.com/main/tour/
.
About The Digital Age:
2012, a year commonly associated with endings, saw a new beginning for former members of the David Crowder*Band. On the heels of their final project with the DC*B, Mark, Mike D, Bwack and Jack sought to continue writing, performing and producing music together for the Church. Out of this desire, The Digital Age was born. With roots already planted at University Baptist Church in the small college town of Waco, TX, The Digital Age constructed their own studio in the place where their ministry started. The Digital Age released their
Rehearsals
EP last summer as a formal re-introduction of the new band. The EP quickly shot to the No. 1 spot on the iTunes® Christian Albums chart and debuted in the Top 15 on
Billboard
's Top Christian Albums chart. Their debut full-length album
Evening:Morning
is due out in August 2013.