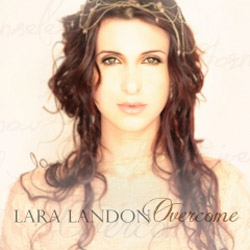 Singer/Songwriter Lara Landon Releases Sophomore Project, Overcome, May 1
Monday, March 12, 2012
Burgeoning singer/songwriter Lara Landon will release her sophomore album,
Overcome
, on May 1.
Overcome
will be preceded by multi-format debut single "I See God In You" to radio this week as well as a music video for the song, now online.
Co-produced by Landon, in cooperation with Mitch Dane (Jars of Clay), Steve Wilson (Josh Wilson, Johnny Diaz) and Brian Hitt (MIKESCHAIR) on select tracks,
Overcome
showcases an eclectic yet cohesive pallet of lush arrangements and melodic, piano-driven pop, venturing into the folk realm but ultimately more reminiscent of fellow female innovators Imogen Heap, Plumb and Kate Bush.
Thematically,
Overcome
picks up where Landon's last effort,
Beloved
, left off, addressing the believer's authority as His beloved to triumph over life's most difficult circumstances. The songs are intentionally sequenced to tell a story, leading listeners through a musical journey from desperation to hope.
"I wanted to take people from a place of confronting their humanity and weakness on songs like 'Better For The Breaking,' 'Defenseless' and 'Falling' to being encouraged by tracks like 'I See God In You,'" explains Landon. "Toward the end of the record, it's all about victory and empowerment—I want listeners to literally be declaring 'we will overcome' and 'the spirit of the Lord is upon me' as they sing along in their car."
Landon has chosen to set up the album at radio with lead single "I See God In You," a song inspired by her mission trips to Haiti as well as a month spent on a service-based tour that ministered at homeless shelters, bars, women's rehabilitation centers and churches. The song will vie for adds at Christian AC, CHR and INSPO radio beginning March 9. Landon also filmed a music video for the song, that premiered at NewReleaseTuesday.com this week.
Click here to view the video
.
"I See God In You" will be available at iTunes April 3.
Overcome
will be distributed to physical retail outlets via New Day Christian Distribution. For more information on
Overcome
, visit
www.laralandononline.com
.