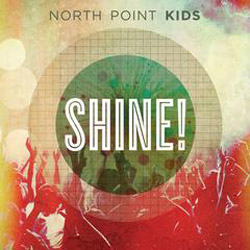 North Point Music Releases First Children's Project, North Point Kids: Shine!
Tuesday, April 16, 2013
North Point Music introduces its first ever album created for children's ministry,
North Point Kids: Shine!
, this week. This new, upbeat project, which debuted at No. 4 on iTunes Children's Music chart, targets elementary-aged kids through songs that have clear messages, easy-to-remember lyrics, and motions that will get them moving.
Every weekend, North Point Ministries leads more than 4,000 children throughout the Atlanta area to worship God. North Point kids learn that the Bible should never be boring, that worship can be really loud, and that the best leaders always care.
"Kids are very hungry and open to know more about God," says North Point Ministries Children's Director Kendra Fleming. "We don't have to teach kids to worship because it's the natural outflow of their hearts. We just have to give them something to participate in, a way to engage. Music is a primary teaching venue for them. Using language they use, it brings emotion, joy, and excitement ... whatever the music is trying to communicate, it resonates with them. They are drawn to it, and the message it sends is so powerful, it stays with them."
Shine!
is a collection of powerful, encouraging songs that sound as current as anything One Direction, Taylor Swift, or Justin Bieber has to offer but that lyrically reveal God as trustworthy, powerful and always present in their lives.
From album openers "Your Love for Me" and "Tell the World," which boldly proclaim God's love for us, to "Look at Our God," an anthem about His power, to the title track's danceable declaration of faith,
Shine!
never loses its energy or fails to empower kids with the truth of who God is.
Well-known worship leaders, such as Casey Darnell, Eddie Kirkland, and Dove Award-winner Seth Condrey, are featured on the album, along with other artists. Darnell comments, "To this day, I still remember the songs I grew up hearing in our home or in the car. Those were the early seeds of truth God sewed into my heart that would have a lasting impact and one day grow into a desire to know Him more and trust Him with my whole life. I'm grateful for those days and the music of my childhood, and I'm honored to be passing this legacy on to my children today!"
To learn more about North Point Kids, visit
www.northpointkids.org
. For additional information on this CD and others from North Point Music, go to
www.northpointmusic.org
.