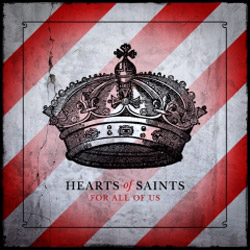 Hearts of Saints Releases Dual-Disc Project, For All of Us, Jan. 15
Monday, November 26, 2012
Fan favorite pop/rock band Hearts of Saints returns with its highly anticipated follow-up project,
For All of Us
, Jan. 15, 2013. The release is a dual-disc offering, combining both rock and worship tracks.
Featuring executive producer Ainslie Grosser (Jesus Culture, Matt Redman); producer/songwriter Michael Farren, known for writing modern worship staples "Let it Rain" and "Let the Worshippers Arise;" and Grammy Award-winning producer Andy Hunt (Shirock, Matthew West), the album contains not only Hearts of Saints' signature catchy rock anthems, but also Scripture-heavy songs for the church to sing.
"We've always been comfortable in both worlds, it's just who we are," explains Hearts of Saints frontman Craig Felker. "We're not a rock band covering worship songs; we feel called to write fresh expressions. Truth be told, we've never been all that interested in simply singing songs to people anyway. We want to sing songs with people."
Covering a wide subject range,
For All of Us
is chock full of anthemic songs that speak to the real world joys and heartaches of the faith journey. "Come Out of the Dark" is a bold call to remember our identity in Christ as "sons and daughters of light," while the Psalm-inspired "Everlasting" portrays an intimate plea born out of a desire for holiness.
Along with the seven new worship tracks on
For All of Us
, listeners will also be treated to six more cuts that reflect the band's pop/rock sensibilities. Yet nestled beneath these songs' playful, raucous musical exterior are, similar to the worship tracks, sobering commentaries on modern life and faith. In "Attraction Distraction," co-written with Joel Smallbone (for KING & COUNTRY), Hearts of Saints considers the danger of becoming slaves to people-pleasing, while the compelling ballad "Wait," written after learning a teenage fan had committed suicide, centers around people searching for lasting love, significance and fulfillment.
The project's debut radio single "Merciful God," will begin vying for adds at Christian AC and CHR on Jan. 18, 2013. For All of Us will be distributed to Christian retail via New Day Christian Distributors.
About Hearts of Saints
Comprising Craig Felker (frontman), Jason Killebrew (drums), Jesse Grisham (guitar) and Joel Purdy
(bass), Hearts of Saints solidified its status as one of Christian music's most exciting new pop/rock acts with the band's 2010 self-titled debut release.
CCM Magazine
raved, "...Hearts of Saints is poised to be one of this year's breakout bands..." while Examiner.com called Hearts of Saints, "...a force to be reckoned with in Christian music." Having shared the stage with everyone from Switchfoot to TobyMac, Skillet and Casting Crowns at music festivals including Rock The Universe, AtlantaFest, UnityFestival, Rock The Light and others, Hearts of Saints continues to be a fan favorite live. For more information, visit
heartsofsaints.com
.