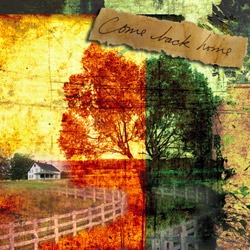 Courage Worldwide Fights Human Trafficking With Compilation Album Come Back Home
Monday, April 22, 2013
Courage Worldwide rescues children who have been sold for sex by providing healing and restoration in the lives of child victims of sex trafficking through Courage Houses. These homes provide a safe, loving family environment, comprehensive therapeutic and education services, and a Unique Life Plan for each resident. Helping to raise funds to build more Courage Houses around the world, Courage Worldwide has created an inspiring compilation album
Come Back Home
produced by Phillip LaRue and Ben Phillips. The album will be available digitally on iTunes on April 30, 2013 and
can currently be purchased physically through Courage Worldwide
.
Come Back Home
was inspired by the moving poetry and heartbreaking stories of the girls in the Courage Houses rescued from both the U.S and Africa. The funds to produce this album were raised privately so 100 percent of the sales will be used to build more houses. Exclusive songs were written and donated by Jars of Clay, Mike Donehey of Tenth Avenue North, Us and Our Daughters (Phillip and Lia LaRue), The REEL and more. The complete track listing is listed below.
"I have seen first hand the radical impact Courage Worldwide has made on the girls that they have rescued and are restoring," shares LaRue. "Before Courage House, the girls had broken dreams and now they are not only dreaming again, but they are learning how to believe and love again. It's an amazing thing to witness."
To support this album, a radio single will be released May 3 from The REEL. The title track "Come Back Home" was inspired by a visit the band had along with producer Phillip LaRue. Radio promoter Matt Ingle will be promoting the single to radio.
"We met with the girls (our friends) living in the Courage House and heard each of their unbelievably heart-breaking stories, poems, and songs," explained The REEL. "We then knew we had to write this song. This song is written for the girls still caught in this life. Our hope is that the girls would hear this song and be inspired to find a place to start over like the Courage House."
Founder and CEO of Courage Worldwide Jenny Williamson is thrilled to have the artists contribute to this special project to help bring awareness to the cause and organization. "We are amazed and honored to have such outstanding bands partner with us to use their music to be a voice for our girls who have no voice - and to shine a light on the horrors of trafficking of children both in the U.S. and around the world,." shares Williamson. "Yes, it is happening in our back yard, and over and over again I have said these kids just need a home and they need a family. This album,
Come Back Home
is the cry of my heart and the Father's heart to give these children a home - a place to be loved, healed and restored and the songs will inspire listeners to change the world and be a light in the darkness!"
About Courage Worldwide:
Courage Worldwide is an international, non-profit organization that provides homes and comprehensive services for children rescued out of sex trafficking. The issue of child sex trafficking is global and growing. Current statistics estimate that there are approximately 4.5 million sex trafficking victims around the world with 98% of those victims are woman and girls. At least 100,000 to 300,000 children in the US are being trafficked for sex. It is their passion and vision to build Courage Houses in every needed city around the world for rescued children will have a safe place to call home. Courage Worldwide wants to eradicate sex trafficking completely. With home locations open in Northern California and Tanzania, and with efforts underway to build a Courage House in Hawaii, they are fully committed to not only rescuing child victims of sex trafficking, but also to restoring their lives. They have a comprehensive program and global reach.
Come Back Home
1. Light in the Darkness, The REEL
2. Run, Jars of Clay
3. Carry You Away, Us and our Daughters (Phillip and Lia LaRue)
4. Come Back Home, The REEL
5. Lead Me Back to You, Mike Donehey from Tenth Avenue North
6. You are Near, Ryan & Cindy
7. Wolves without Teeth, The Music Room
8. Moving Mountains, Jeff Deyo (formerly of Sonicflood)
9. God I Believe, The REEL
10. Delights in You, Jonny Diaz
11. Rescue Me, Jeff Deyo
12. Eyes on the Prize, Sara Groves
13. The Last Orphan, Our Hearts Hero
14. Call Me Family, Nate Fowler & Chaya