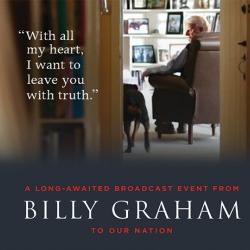 Billy Graham Turns 95 November 7, Coinciding with Broadcast Event
Monday, November 04, 2013
Evangelist Billy Graham turns 95 November 7. That day marks the launch of the My Hope movement, with the broadcast event, The Cross, featuring LeCrae, among others.

"With all my heart I want to leave you with the truth that He loves you and wants to forgive you of your sins."- Billy Graham

Click here for more information and to view the trailer.