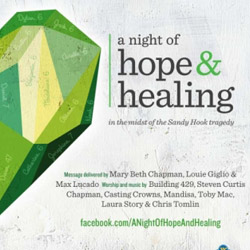 "A Night of Hope & Healing" Concert to Pay Tribute to Sandy Hook Tragedy
Monday, January 07, 2013
A diverse collection of award winning Christian artists and speakers will come together to share a message of "Hope & Healing" on Tuesday, January 15, 2013, from 6:00-10:00 PM at Webster Bank Arena in Bridgeport, CT. Christian artists TobyMac, Chris Tomlin, Mandisa, Laura Story, Casting Crowns, Steven Curtis Chapman, and Building 429 have volunteered to lead the night in worship. Renowned authors and speakers Louie Giglio, Max Lucado, and Mary Beth Chapman will also make special appearances.
The tribute concert is a free event and open to the public. Families and children are invited to share in a night of prayer and music to honor the victims and families of the Sandy Hook Elementary School tragedy. Tickets are available free of charge on ticketmaster.com and at the Webster Bank Arena box office.
"The initial response to the event was overwhelming, with over 10,000 tickets going in just 30 minutes, and since then 2,000 more seats have been opened," commented Kevin Braun of Generation Exodus, the company organizing the event. "I think this speaks to how we as a nation want to honor and show our support to this community."
You must have a ticket to enter the concert.
For more information please click here
.