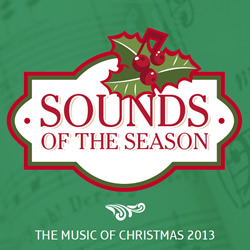 Sounds of the Season
Sunday, December 01, 2013
What can you say about Christmas that hasn't been said?
It's the most wonderful time of the year! It celebrates the greatest gift in the history of mankind.It's a time for family and friends and lots of food…
Everyone has an idea of what Christmas looks like, smells like, feels like. Most also know how difficult it can be to safeguard against commercialism.
Most want to experience and share the holiday with reverence and joy over the birth of a king.
Along the way, though, we get busy. Between work and church and plays and parties and family, Christmas can come and go in such a flurry that the divine is diminished, if not omitted entirely.
Perhaps this is why God gave us music. Christmas songs have become symbolic of the birth of our Lord and the joy of that gift.
As we stand side-by-side singing together the familiar words of "Silent Night" or "The First Noel," we see, perhaps, a glimpse of what heaven will be — a family, honoring our Father and celebrating His love. This Christmas, as the flurry of the holidays begins, perhaps you can find a respite, a smile, a celebration within one of the many new Christmas albums that have been released this year.
CCM
sat down with for King & Country, Sidewalk Prophets, Paul Baloche and others to hear the heart behind their holiday offerings.
Press pause on your Holiday to-do and enjoy the read, enjoy the songs and let every moment of this season fill your heart with joy, knowing that you are the recipient of the greatest gift ever given.

Paul Baloche
Christmas Worship
Worship, Carols…Both
"The past few years, every time Christmas would come around, I would go through the process of planning the Christmas services at my church, and in the back of my mind I was wishing there was something I could pull from that would incorporate the carols and worship," says Paul Baloche. "That's always been a puzzle as the worship pastor. And I thought, 'Why can't we do both?'
"The carols don't need any help," says Paul. "They stand on their own. Originally, they were intended to be sung and heard in the context of worship. Re-introducing them in that context forces us to reengage, re-awaken the intent of the writer and re-appreciate that intent."

for KING & COUNTRY
Into the Silent Night
Tried and True
"We're dealing with the greatest tried-and-true that we'll ever listen to. They [traditional carols] will be much better than what we write. We wanted to keep it all relatively true. There's something incredibly powerful about singing the truths of who Christ is," says Luke Smallbone. "You're just talking about the things that we know to be inherently true. There's something powerful to be able to reflect back on some of these truths that have been around for a very long time."

Sidewalk Prophets
Merry Christmas To You
A Charlie Brown Christmas
"We made it in May," says lead vocalist, Dave Frey. "I brought in a tree and we played
Home Alone
. We hung a giant
Charlie Brown Christmas
banner and actually got the rights to use the voice of Linus from a Charlie Brown Christmas."
Star Bright...
"My favorite song from the record is one in which the moon is having a discussion with the Christmas star, remembering the night Jesus was born," Dave continues. "We wanted it to be almost like a lullaby…it's reflective of that night."

Brandon Heath
Christmas Is Here
Holiday Protocol
"I'm finding out a lot of people agree on my hardline rule — no Christmas music until the day after Thanksgiving," says Brandon. "Too much of a good thing is a bad thing!"
Something Old, Something New, Something Blue
"I wanted it to be fun. It always reminds me of children. I wanted something for kids to sing along to and to reflect the vinyl records I grew up on — Nat King Cole, Bing Crosby…I borrowed from their style a bit. I really wanted to sing some carols," says Brandon. "So I recorded a lot of carols, including 'In the Bleak Mid-Winter.' It's super old and one of the most beautifully written. There's also some bluegrass style on the record. A couple guys from Union Station played on the record. It was fun!"

Dave Barnes
A Christmas To Remember
Target Practice
"It's probably some of my favorite stuff to write just because it's the one time as a writer when it's a specific target," Dave explains. "For me, that's what's so fun about it and what's so mind-bogglingly frustrating about it. With a pop record, you can write songs that run the gamut. Christmas songs kind of say the same thing over and over, but that thing is incredibly potent and powerful."
High Hopes
"Because it's such a strong sentiment, people attach so much value to that season and the memories associated with that season. Things either trigger that or they just don't," Dave continues. "My hope for this record is that it becomes what so many classic Christmas albums are to me — the music that accompanies the memories and moments that surround my favorite holiday."

Point of Grace
A Point of Grace Christmas
Pull up a chair…
"We are so excited to be partnering with Cracker Barrel on our holiday CD this year. What an honor to walk through the doors of our favorite restaurant and see Point of Grace music on the shelves," says Point of Grace's Shelley Breen. "It's our sincere wish that the faithful customers of Cracker Barrel will find joy and encouragement this Christmas while listening to A Point of Grace Christmas."

David Ian
A Vintage Christmas Wonderland
What's old is back again…
"After overwhelming enthusiasm that came from my debut album, Vintage Christmas, I felt energized to explore more Christmas music," David Ian explains. "Songs I've chosen for the new EP include two instrumentals: a mellow and swinging rendition of 'O Little Town Of Bethlehem' and 'The First Noel,' featuring a melodic bass solo by Jon Estes. The familiar sound of the vocalists stay true to the Vintage Christmas brand in 'Angels We Have Heard on High' and 'Winter Wonderland,' with a slight departure in 'Jingle Bells.'"

Andrew Greer
Andrew Greer Angel Band: The Christmas Sessions
"I have loved Christmas and, more specifically, Christmas music since I was a young kid. From historic hymns to modern classics, the season's song repertoire is so rich. This season evokes a hopeful melancholy of sorts. A reflection on my humanity, God's divinity and the need for Jesus, the Messiah, to reconcile the two," says Andrew. "So I wanted to record sacred carols, as well as write a few tunes, that perpetuate this bigger redemption picture. The sparse Americana-Folk arrangements, instrumentation and production — vibey pedal steel, vintage upright piano, fiddle, mandolin, plenty of acoustic guitars — are designed to give a hallowed acoustic framework to the life-changing message of these songs. All of these elements add to this sacred midnight that I feel gives Christmas music such magical meaning — especially in the life of a follower of Christ."