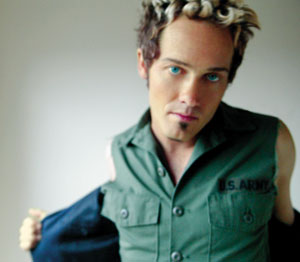 19 Things You Probably Didn't Know About: tobymac
Monday, July 19, 2004
"I love a lot of styles of music," confesses tobyMac (aka Toby McKeehan) whose solo debut, Momentum (ForeFront), is both an album title and a description of his career. The dc talk founder, Gotee Records co-founder and now solo artist describes his music: "I love blending guitars, wurlitzers, reggae bass lines, banjos, etc., with a foundation of hip-hop. Old school, new school, multi-cultural; everyone's invited." And what a mixmaster he is, rolling out a welcome mat that extends across the board. Now, let's get this party started.
19. Pre-dc
If you think Toby McKeehan's only group was dc talk, we need to talk. In high school, he was in a quartet that primarily sang Negro spirituals. "I was 2nd tenor, but I should have been 3rd. [Note: There is no 3rd tenor.] We wore good ol' red, white and blue, complete with those fashionable flag ties."
18. Speaking of threads…
Always a walking fashion statement, Toby finds his clothes "everywhere." Some are designer duds, some come second-hand, and some Toby designs himself. "I like mixing it up, putting things together that shouldn't be together… kinda like my music. Dirty urban, rootsy urban, urban punk—that's me."
17. Hat trick
If you've seen many pictures of Toby, you know he wears many hats—but just how many does he own? "I have no idea. I go through cycles. I'll wear one everyday for a few months and then put it down, just to rediscover it a year later."
16. Down with Dad
When you see Toby, your first thought probably isn't "Wow, he's a father of three," unless you hear him bragging about his kids. Truett, his 5-year-old, made his first shot in his basketball league recently. "Actually," claims the proud papa, "he was three for four—that's 75 percent from the field, but I wasn't counting—I promise." Moses and Marlee, his twins who are about to turn 2, "light up my life. When I test my demos on them, they bounce to 'em."
15. Parents' night out
When he and his wife, Amanda, get a babysitter, they usually go to dinner at their favorite little spot, maybe get coffee and always hit a movie for a little mental escape/adventure. His standard concession stand picks: popcorn, Sourpatch Kids and a Pepsi.
14. Sports huddle
Although his years in Nashville have cultivated a love for the Tennessee Titans; as a kid, Toby lived next door to Washington Redskins coaching legend Joe Gibbs, who is coming out of a 15-year retirement to lead the 'Skins again. Toby's take: "First loves never die, especially when your coach is back. I can't wait for the season. Gibbs rocks!"
13. Friends reunion?
The Internet is always abuzz with talk about when and if Toby, Kevin Max, and Michael Tait will reunite for a dc talk album. We went to the source to find out what's goin' down. "We're all on solo adventures for now and still enjoying that ride. I don't know… how long do you officially have to wait to call it a 'reunion'?"
12. Truly higher education
ERACE, the organization co-founded by Toby to promote racial reconciliation is taking its mission to a new level. "We just got approved and will begin the ERACE Institute this summer. It's actually college accredited. We're finally putting feet on a dream."
11. Go Tee, Gotee
Gotee Records got its name from the crowd yelling "Go T" to rev Toby up during dc talk concerts. Says the music mogul: "We have an incredible roster of passionate artists with vision. My greatest role is finding the artists who inspire me and then helping them make a recording that will inspire the world."
10. New beats in an old house
Although you might expect Toby to live in a high-tech crib, his home is old—really old. It was built in 1846 and used in the Battle of Franklin during the Civil War as headquarters for General John M. Schofield of the Union Army.
9. Dreaming of duos
Being a solo artist is working fine for Toby these days; but if he could collaborate, who would he choose? "Mary Mary would be hot. The Police reunion tour, maybe? Bob Marley, but let us not forget Lauryn Hill."
8. Slammin' on the court
Toby plays on Gotee's basketball team, where he counts his primary strength as "knowing when to pass the ball. Of course at 5'9'' my rebounding skills are off the chain. Oh yeah, I'm known for my triple-doubles… at Starbucks."
7. That next record
"All I can tell you is I 'like' too much. I want to pursue every thought I have and turn it into a song. Eclectic's an understatement. Diverse City, baby, loud and clear."
6. MacWrite
Want to approach songwriting like Toby? Here's how: "I always write choruses first. For me, the hook is instant. From there, it's all work. I write hooks in five minutes and verses in five months."
5. Time machine
If he could travel back to the start of his career, what would today's tobyMac tell Toby McKeehan? "Don't put out anything for public consumption until Free at Last (ForeFront). Until then practice, write, practice, write and figure out who you are. Growing up artistically in front of everyone was kinda fun, though.
4. Jumpin' with Jerry
One of dc talk's first shows was at a barbecue in Liberty University President Jerry Falwell's backyard. Toby reports, "He was bouncin' in his 'Jesus First' lapel pin."
3. In the Year 2024
Twenty years from now, Toby imagines he'll be "watching Marlee's final show on her world tour, seeing Moses get drafted by the NFL and being a parishioner at Tru-dog's church. But, for real, hopefully Amanda and I will be doing Kingdom work somewhere."
2. In Good Company
Over the years, Toby has been excited to meet Bono, Billy Graham, Sting, Mel Gibson, "and, of course, Loverboy on their reunion tour in a hotel elevator last summer."
1. Don't Believe Everything You Read on the Web
Recently, while surfing the Internet, Toby discovered "that I'm a wicked guitarist… and I wanted desperately to believe it."