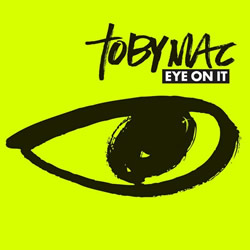 Eye On It
TOBYMAC • Eye On It
(ForeFront)

Rating:
4 stars
"The latest long-awaited LP from tobyMac keeps things fun with a light, summery vibe throughout — from the opening Owl Coty-esgue "Me Without You" to the whistle-along tune "Favorite Song", which features Jamie Grace. The album's anchor is "Forgiveness" which features LeCrae and a structure that echoes Mat Kearney." — Matt Conner
Click
HERE
to read the September 2012 CCM feature article on tobyMac which talks about his album
Eye On It
.
Check out audio clips of the songs on
Eye On It
below. . .
Song Title
Length
Play
Price
Buy MP3
&nbsp

Me Without You




Album: Eye On It

3:34
Buy Song
&nbsp

Steal My Show




Album: Eye On It

3:36
Buy Song
&nbsp

Eye On It




Album: Eye On It

3:08
Buy Song
&nbsp

Forgiveness (Feat. Lecrae)




Album: Eye On It

4:14
Buy Song
&nbsp

Speak Life




Album: Eye On It

3:25
Buy Song
&nbsp

Unstoppable (Feat. Blanca From Group 1 Crew)




Album: Eye On It

3:44
Buy Song
&nbsp

Lose Myself




Album: Eye On It

4:14
Buy Song
&nbsp

Family




Album: Eye On It

3:47
Buy Song
&nbsp

Thankful For You




Album: Eye On It

4:01
Buy Song
&nbsp

Made For Me




Album: Eye On It

3:39
Buy Song
&nbsp

Mac Daddy (Tru's Reality)




Album: Eye On It

2:41
Buy Song
&nbsp

Favorite Song (Feat. Jamie Grace)




Album: Eye On It

3:56
Buy Song