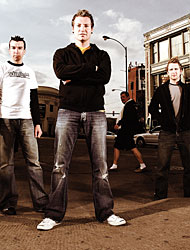 Daring to Move
Saturday, October 01, 2005
It's not every band that can transcend a genre or survive its passing, but Tooth & Nail recording artist has done just that. The Toronto-based group burst onto a growing raprock scene in 2000 with an energetic live show built on an aggressive, 270-date per year touring ethic, creating a healthy buzz and fanbase on the strength of just one album—Set It Off (which was re-mixed, re-mastered, re-packaged and re-released last year and has now sold more than 85,000 copies). The band seemed to easily whip each audience into a massive pogo-ing throng with crowd favorites such as "Puppet" and "Supafly."
Looking back at Thousand Foot Krutch's history (which actually started in 1998 with the indie release, That's What People Do), frontman Trevor McNevan makes no apologies for his involvement in what has become an all-but-dead genre: "That was a long time ago," he laughs. "I'm a big hip-hop listener. I love it in general, and that's still a passion I have. At the time, we were having a ton of fun fusing hip-hop with rock, funk, elements of jazz and a whole bunch of different things... There were some great influences from the Chili Peppers... the first Rage [Against The Machine] record, Epic by Faith No More, Anthrax and Public Enemy... It wasn't something that had been over-exposed or overdone at all. It was still a very honest hybrid and something you could have fun with. So that's what we did."
As the next few years went by, TFK's tastes changed along with industry trends that clearly shifted away from raprock. "You mature as musicians and artists; but you also grow, and the music you enjoy listening to or playing or writing obviously grows with you or changes," explains McNevan. "But during that time, most importantly, I had noticed that hip-hop was just being milked for everything it was worth in rock & roll, R&B and even country. You would hear The Rolling Stones with a remake that had a scratch in it... People were just trying to sell records by fusing hip-hop or having someone in the background, like a hype man or something. So, that was the Limp Bizkit phase and that whole 'nu-metal,' as they call it, or 'raprock' or 'rapcore.' To me, it felt very over-polluted. I feel P.O.D. did it well, and I always felt like we could easily continue fusing hip-hop with music and making it interesting, creative and honest; but in the same sense, we didn't want to be hyped as just another one of those bands."
And the truly great bands? They evolve with each album and aren't afraid to move into new musical territory, while maintaining their artistic integrity. With 2003's Phenomenon, which documented a distinct shift in focus on rock & roll, Thousand Foot Krutch did just that.
"Hopefully, with every record, we can do something fresh and evolve," says McNevan. "I think it was just a natural progression for us, where we tried to stretch ourselves as musicians a lot more."
Stretch? You bet. And the band's fanbase not only went with them, it actually mushroomed in size. Propelled by the multi-format hit single "Rawk Fist," Phenomenon sold more than 155,000 copies. Many of TFK's new fans were tapped via the mainstream rock world as "Rawk Fist" entered the Top 25 of Radio & Records' Active Rock airplay chart and, by the end of 2004, was one of the format's 75 most played songs of the year. With such success came new touring opportunities; and, before long, the band was sharing the stage with the likes of Jimmy Eat World, Foo Fighters, Chevelle, Switchfoot and The Donnas.
For the next step, the band—which also features bassist Joel Bruyere and drummer Steve Augustine—turned to producer Arnold David Lanni (Our Lady Peace, Simple Plan). With Lanni helming the new album, The Art of Breaking, Thousand Foot Krutch once again sought to evolve. "We tried to take the songs to a different place," says McNevan, "so that it was a fresh departure for us. There was some piano, the slowest song we've ever done and also probably the heaviest song we've ever done. We wanted to do something that was kind of fresh for us and make a raw-sounding rock record."
TFK was more than successful in its attempt to bring the rock, and nothing but the rock. The chunky riffage found in "Hurt" is evidence enough and would do well right up against anything from the last two Chevelle albums, revealing another layer of talent and ability from this trio.
The Art of Breaking is a compelling title and somewhat conveys a sense of hopelessness and need for restoration fused into its 11 songs. Explains McNevan, "I think a pretty relevant feeling for me that was talked about on the record was in the song 'Breathe You In,' the last track on the disc. It's more of a ballad song. It's just talking about needing a second wind—where you start to feel like you've kind of drained the well, and you need to get a fresh breath and a fresh drink. Sometimes it's just in our personal lives, whether it is working or taking on too much. Whatever the case, you just kind of burn it at both ends for awhile and need a little refurbishing."
He should know. When he's not co-writing songs with KJ-52, Mannafest or Demon Hunter, McNevan might be developing an artist such as Hawk Nelson (who he both brought to Tooth & Nail and co-produced), or he and fellow TFK drummer Steve Augustine might be recording or playing with their more-popular-than-expected side project, FM Static.
"[It] started originally because I had been writing these other songs—which ended up being the first FM Static record—that were just clearly not TFK songs, and there was really no outlet for them," says McNevan. "I had a lot of fun doing it, and Steve is really into that kind of music as well; so we were just like, 'Man, why don't we just do it, and we'll give it as much time as we possibly can.' Our pact was that it would never interfere with TFK. It just had to be completely for fun—no stress. I think it's [for] a season; but the season's still going, it's still a lot of fun, and I'm loving it. The new record has its own flavor."
Despite an exhausting schedule, these fun-loving Canadians press on in a spirit of gratitude toward God, knowing that all the hard work is just part of the opportunity they've been given. "We're a bit older than when we started, that's for sure," says McNevan, "but we're just making music and being surrounded by the kind of people [where] everybody just loves music… Keeping our youthful enthusiasm hasn't been a problem for us."
Truth be told, that's an understatement on McNevan's part. While Thousand Foot Krutch's sound has changed significantly in recent years, "youthful enthusiasm" remains one of the band's defining traits—a trait that connects. When The Art of Breaking released in July, Thousand Foot Krutch entered the Christian album sales chart at No. 2 and The Billboard 200 overall sales chart at No. 67.
"We're expecting big things in the general market from Thousand Foot Krutch in the next year or so," says Tooth & Nail founder and president Brandon Ebel. "They're without a doubt a general-market priority for us." Ebel knows what he's talking about—this is the man who brought the mainstream MxPx, Underoath, Mae, Norma Jean, Emery and a host of others.
And when it comes to TFK's mainstream push, The Art of Breaking's lead single "Move" is getting unprecedented backing from Tooth & Nail's part owner, EMI Christian Music Group. This past June, the company launched EMI Music Reactive—a promotion and marketing group formed exclusively to champion select Christian artists to mainstream radio and other media. According to EMI Music Reactive Vice President of Promotion and Artist Development, Cheryl Broz, TFK's "Move" is the first song to have the new team's all-out muscle behind it from the single's onset.
"What I keep hearing from all the alternative, active rock and mainstream rock programmers is that 'Move' is a one-listen song—listeners are hooked immediately," says Broz. "The song has quickly climbed to No. 32 on the Active Rock chart and No. 33 on the Alternative chart. And the feedback on the whole CD, The Art of Breaking, has been phenomenal."
The "art of breaking" indeed...