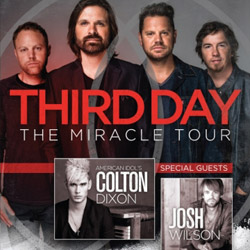 Third Day Announce "The Miracle Tour," Slated to Hit 45 Cities This Coming Spring
Friday, November 02, 2012
Four-time GRAMMY® Award-winning band Third Day will hit the road again this spring to headline The Miracle Tour, a 45-city trek featuring "American Idol" finalist Colton Dixon and singer-songwriter Josh Wilson as special guests. "The Miracle Tour" will launch Feb. 21, in Fairfax, Va., and will hit major markets like Memphis, Dallas, Birmingham, Atlanta, Nashville, Indianapolis, Grand Rapids, Chicago and many more before wrapping up in mid-May.
"The Miracle Tour" takes its name from Third Day's brand new studio project,
Miracle
, releasing Nov. 6. With veteran producer Brendan O'Brien (Bruce Springsteen, Pearl Jam, Train, The Killers) at the helm,
Miracle
is a 12-track simmering brew of potent rock anthems infused
with the substantive, life-affirming lyrics that have always been the bedrock of Third Day's music. At the same time, the band explores new sonic and lyrical territory on
Miracle
, with layered guitars and harmonies, sing-along gang vocals, and so on – not heard from the band previously. The band's signature rock foundations remain; they've just been infused with a modern-day flair.
"We have toured for so many years and feel like we owe any success we have to the fans that built Third Day," says drummer David Carr. "These songs are engaging musically and lyrically; we worked hard to stretch ourselves for the people who come to our shows and buy our music. We poured so much into this record because we wanted to bring our fans our very best. We are proud of
Miracle
and can't wait for people to hear it."
A special VIP package will be available for The Miracle Tour ticket buyers, including a premium-seat concert ticket, an exclusive Third Day tour poster, a
Miracle
CD and entry to a special pre-show event. A group ticket package will be offered, along with Fan Club pre-sale dates.
"The Miracle Tour" is sponsored in part by Christian humanitarian organization
World Vision
and
Grand Canyon University
. World Vision provides assistance to approximately 100 million people in nearly 100 countries by tackling the causes of poverty and injustice.
THIRD DAY – THE MIRACLE TOUR – SPRING 2013
*Additional dates to be added. Dates, markets and venues subject to change without notice
FEBRUARY
2/21 – Patriot Center – Fairfax, Va.
2/22 – Vine Center – Lynchburg, Va.
2/28 – Wicomico Civic Center – Salisbury, Md.
MARCH
3/1 – Glenn Falls Civic Center – Green Falls, N.Y.
3/2 – Tsongas Center – Lowell (Boston), Mass.
3/3 – Bangor Auditorium – Bangor, Maine
3/7 – Akron Baptist – Akron, Ohio
3/8 – St. Francis University – Ft. Wayne, Ind.
3/9 – Freedom Hall – Johnson City, Tenn.
3/14 – John Paul Jones – Charlottesville, Va.
3/15 – Bi-Lo Center – Greenville, S.C.
3/16 – Mobile Civic Center – Mobile, Ala.
3/17 – Abbot House – Chattanooga, Tenn.
3/21 – Charleston Civic Center – Charleseton, W.V.
3/22 – Sovereign Center – Readying, Pa.
3/23 – War Memorial Arena – Johnstown, Pa.
3/24 – Grove City Church – Columbus, Ohio
APRIL
4/4 – Broadmoor Baptist (can rig) – Jackson, Miss.
4/5 – Hope Church – Memphis, Tenn
4/6 – Verizon Theater – Grand Prairie, Texas
4/11 – Verizon Arena – Little Rock, Ark.
4/12 – BCJJ – Birmingham, Ala.
4/13 – Fox Theater – Atlanta, Ga.
4/14 – St. Augustine Amphitheatre – St. Augustine, Fla.
4/19 – Allen Arena – Nashville, Tenn.
4/20 – GSO Special Events Center – Greensboro, N.C.
4/21 – Abbott House – Chattanooga, Tenn.
4/24 – Tulsa Convention Center – Tulsa, Okla.
4/25 – Heartland Events Center – Grand Island, Neb.
4/26 – Cheyenne Civic Center – Cheyenne, Wyo.
4/27 – Union Coliseum Civic Center – Greeley, Colo.
MAY
5/1 – Northview Church – Indianapolis, Ind.
5/2 – Northview Church – Indianapolis, Ind.
5/3 – Elm Brook Church – Brookfield, Wis.
5/4 – Kentwood Community Church – Grand Rapids, Mich.
5/7 – ASU Convention Center – Jonesboro, Ark.
5/9 – All Nations Community Church– Chicago, Ill.
5/10 – SE Christian Church – Louisville, Ky.