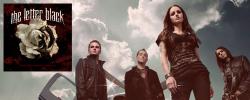 Introducing ... The Letter Black
Friday, April 30, 2010
The origins of Tooth & Nail's highly heralded hard rock acquisition The Letter Black actually dates back to the members' time in Breaking the Silence. After forming in 2006, the group entered the studio independently with Travis Wyrick (P.O.D., Pillar, Disciple), followed by an impressive streak of 150 shows a year including a last minute call to serve as a substitute for a broken up band on the otherwise successful Five 4 Five Tour alongside Dizmas and Children 18:3 (with just two weeks notice), and more recently, Skillet's immensely successful Awake and Alive Tour. Between constant contact with the label through that all-star producer and their new manager, the Uniontown, Pennsylvania-based band turned their backs on other label offers and signed by the dotted line. Click here to read more.
Also, just launched is a The Letter Black contest in which the Grand Prize winner will receive a The Letter Black t-shirt, fingerless gloves, new album and more! There will be weekly prizes as well in which the winner will receive a The Letter Black sticker and poster! Click here to enter today and win big!
You can get The Letter Black's debut album "Hanging On By A Thread" on iTunes now for only $7.99 ... don't forget to check out the album trailer and share it with your friends.
This is a paid advertisement.