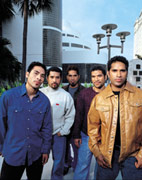 Children of Destiny
It's Wednesday night in Nashville and the five brothers who make up funky R&B-flavored pop act The Katinas are taking the stage at a renovated church that's been transformed into an intimate concert venue.
The Katina siblings appear at this late April show with their sophomore CD, Destiny (Gotee), in the can, ready to hit store shelves in May, seemingly a perfect opportunity to lay down a few new tracks, start a buzz, begin the marketing hype. But the five brothers quickly recognize the short attention span of the full-to-capacity crowd, and they focus their set time on providing an atmosphere of praise & worship. Tailoring their music to an audience's needs is a long-practiced gift for these brothers who grew up in a church in which their father, Moses, directed the choir on the South Pacific island of American Samoa.
Fast-forward one week later. Sam, Joe, James, John and Jesse Katina are once again performing, but this time there is no audience. The group now inhabits a Nashville practice room to rehearse for an upcoming promotional tour. Black curtains line the wall, duct work hangs from the ceiling, and the dim light bulbs barely make the rehearsal area visible. Despite the dark setting, today's conversation revolves around a hopeful topic—the theme of Destiny.
"The question is not 'Do you have a destiny?' because everyone does," says Joe, the group's drummer. "The question is 'Will you fulfill the destiny that God has for you?' "You can live your life by design or default, the choice is yours," he explains. "A lot of times in my life, because of not being obedient to God and doing my own thing, I was just flying by the seat of my pants. Everything was happening by accident because there was no purpose."
Though as kids they were more interested in participating in sports, Moses Katina required all 12 of his children to sing and play instruments. It was a parenting move that paid off, leading five of the brothers to move to the United States to start a professional musical career. Unfortunately, the group's first major step proved to be a miscalculation as The Katinas signed an eight-album contract with a general market record company only to discover it wasn't what they wanted after all.
"When we signed to Arista, the Katinas as brothers had a lot to learn about where God wanted us," says Sam, the keyboardist. "They wanted us to sings songs like 'Sleeping With an Angel.' That kind of message never set well in our hearts."
The group knew they needed out of the deal, but the lucrative contract was already in place, and advisors offered little hope of a way out.
"We prayed and fasted, and it was a God-thing," says Joe. "The head of Arista Records said, 'You tell those boys I'll release them and if they ever need a home that our door is always open.' That's the testimony of God's grace."
As The Katinas continued to sing in churches for the next three years without a label, the group learned more about God's sovereignty. "God had to teach us that our ministry was not a valid ministry because of a record deal," says Joe. "He validates us. [If] my last name wasn't 'Katina,' if I wasn't Samoan, if I didn't do music, who would I be? I'm a son of God."
With that identity serving as the foundation for their lives, the group signed a deal with a Christian-based record label. But even with a record company's support secure and exciting career possibilities in store, The Katinas are united in maintaining their first order of business: Family. "That's our first priority," bassist James says. "If we don't have a hold on that, then everything else is in vain."
According to the five men, their commitment to family aligns with their overall mission. "Our ministry is simply to be a follower of Jesus Christ," says Jesse, who shares lead vocal responsibilities with John. "When you do that, everything else comes into place to the person who has a relationship with the Lord."
James adds, "Our mission statement is to encourage the body of believers, then to go out beyond the four walls of the church to compel people to come to know Christ." A recent tour stop at a Grand Rapids, Mich., nightclub provided just such an opportunity.
"A church sponsored this event, and the emphasis was an evangelistic outreach," says James. "For every Christian teenager, there was a [non-Christian] friend, which is incredible. This is something we prayed about before we went on, just realizing who we are going to be in front of and asking God to give us wisdom in how to share His gospel with these people who never darken the doors of a church."
John says, "The very essence of ministry to me is whatever the need is. I hope that I can be looking around and seeing the need, whether it's people on the street who are hungry or at a festival in Mt. Union, Penn., where 65,000 people want to know how to usher into the presence [of God]."
Joe is quick to point out that he and his brothers don't think they have all the answers—they simply want to offer up what God is teaching them to anyone who will listen. "People struggle with the same things we struggle with. People sometimes look at us on stage and think, 'Man, if I could do that,' but don't understand how insecure we are... It's not like we've been doing everything right. God has just really graced us."
"To be a blessing is good," Sam adds. "But God wants us to not only be a blessing but be builders of God's kingdom and establish what's going to be around long after we're gone."