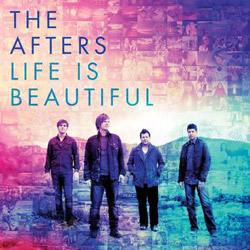 Life Is Beautiful for The Afters; Fourth Studio Album Out Today
Tuesday, April 16, 2013
Life is Beautiful
even in the midst of a hectic tax week. At least it is for The Afters who release their fourth studio album today, April 16. The chart-topping foursome delivers their much-anticipated release to a sea of high praises after more than two and a half years since their last studio album. The project plays anthem to the heartbreaks and life experiences that lead to the album's appropriately titled affirmation –
Life is Beautiful
.
The band kicks-off the release of
Life is Beautiful
with a week-long media run in New York City with visits to
Billboard Magazine
, FOX News Radio,
Guideposts Magazine
, Liberty Treehouse, Sirius FM and Star99.1 FM, among others. In addition, The Afters will perform their infectious lead single, "Every Good Thing" on the highly acclaimed morning show,
The Better Show
. Their interview and performance will air on the nationally syndicated lifestyle TV program next Monday, April 22. The single is also making impressive gains at radio, breaking into the Top 5 of the Billboard Hot AC/CHR Chart and jumping to No. 7 on the Billboard Christian Audience Chart.
Check out a few of the glowing praises on
Life is Beautiful
:
"Beauty can be found anywhere, even in the pain. Anticipation for The Afters' fourth studio project was high… and fortunately, the Texas-born foursome lives up to expectations with
Life Is Beautiful
."
- Rhapsody
"Four albums into its hit heavy career, The Afters are continuing to craft hook heavy material with thought-provoking lyrics, which in this particular case, seek to encourage and enrich fans' faith journeys while giving glory to God for even the simplest blessings."
-gmcTV
"This album challenges us to dive into our own lives and make sure that the beautiful moments aren't forgotten.
Life Is Beautiful
encourages us to live our lives head on to experience the wonder and beauty set before us."
- Indie Music Vision
"Filled with fun, encouraging and several heart-touching moments,
Life Is Beautiful
is easily one of the must-own albums of 2013. If there was any time to discover The Afters, it's now. "
- New Release Tuesday
"In the midst of discouragement, disappointment, and overall disarray, an album like
Life Is Beautiful
speaks directly to these injustices"
- Jesus Freak Hideout
"This is The Afters' best work to date... It speaks to the being of humanity, God's greatest creation, that
Life Is Beautiful
."
- Christian Music Zine
The Afters are currently on the Hundred More Years tour with Francesca Battistelli, Love and the Outcome and Kyle Sherman.
Click here for more information on tour dates and tickets
.