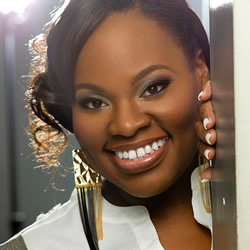 The Fringe Spotlight on TASHA COBBS
Monday, April 01, 2013
A multi-faceted musician, singer-songwriter and Atlanta-based worship leader, Tasha Cobbs has secured her spot as gospel music's breakout new artist of the year thanks to a chart-topping gospel rendition of modern worship favorite, "Break Every Chain," and her #1 national debut,
Grace
(EMI Gospel) — released earlier this year. Here she gives CC M readers a glimpse into the heart behind her burgeoning music career.
CCM: What do you hope to achieve through your musical platform?
Tasha Cobbs:
My objective is to lead people into God's presence through my music, as well as my lifestyle. My prayer is to introduce as many people to Christ as possible!
CCM: Produced by gospel favorite VaShawn Mitchell, how would you describe the music on Grace?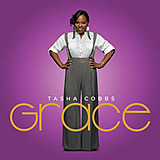 Tasha:
Grace
is a compilation of worship songs that are simple, but profound. It is definitely music for personal and corporate worship experiences. Even the person with the worst voice can feel comfortable singing along. As for VaShawn, working with him was an amazing experience. He is so talented and anointed.
CCM: Why did you decide to include "Break Every Chain," originally recorded by Jesus Culture?
Tasha:
I believe this song transcends every culture and creed. It is for every nation. The first time I heard it I listened to it on repeat throughout the night. Every day I receive testimonies of healing, deliverance and breakthrough. I'm expecting many more!
CCM: What is the common denominator between your role as worship pastor and recording artist-performer?
Tasha:
Everything I do, be it ministry on stage or behind the scenes, is to bring glory and focus to God. In the integrity of how I handle business, the focus is always pointed back towards God. The textures and tone choices of my vocal presentation all bring glory back to God. Anything that brings focus back to God is ultimately leading people into a place of acknowledging him. That is leading worship!
To read this article in the digital CCM Magazine, click HERE.