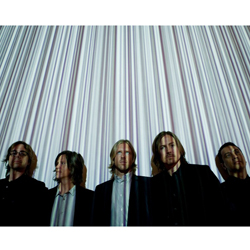 Switchfoot Performs Top 10 Single "Dark Horses" on "The Tonight Show with Jay Leno"
Thursday, December 01, 2011
GRAMMY-winning rock band SWITCHFOOT will perform their new hit single, "Dark Horses," on "The Tonight Show with Jay Leno" tonight. The song, which is from the group's new album,
Vice Verses
(Credential Recordings/lowercase people and Atlantic Records), is currently No. 6 on the Modern Rock chart.
Fresh off a successful European run that included stops in the UK, Holland, Germany, Austria and Switzerland, and sold-out shows in London, Birmingham, Amsterdam and Mannheim, SWITCHFOOT will resume their North American tour this Wednesday, November 30. In addition to headline dates, the band will play numerous holiday radio shows in the next month, performing alongside such artists as Blink 182 and Social Distortion. (See below for itinerary.)
Living Social and SWITCHFOOT are teaming up to present two special shows at the intimate Largo at the Coronet in Los Angeles on December 14. Each show will kick off with an hour-long Q&A with SWITCHFOOT, followed by an acoustic performance featuring songs from
Vice Verses
. Fans can choose from a 6:30 PM or 9:00 PM show. Tickets are available today and tomorrow exclusively through
www.livingsocial.com
.
The following evening, December 15, vocalist/guitarist Jon Foreman will perform at the first of the two-night Invisible Children Holiday Benefit at the Troubadour in West Hollywood, CA. The first evening will be curated by Pete Wentz and Alternative Press, and will also feature Matt Pryor (The Get Up Kids), Aaron Gillespie (The Almost), Aaron Weiss (mewithoutYou) and Ryan O'Neal (Sleeping At Last). Additional information about the benefit shows and Invisible Children, which is working to end the use of child soldiers in Joseph Kony's rebel war and restore LRA-affected communities in central Africa to peace and prosperity, is available at
www.invisiblechildren.com/music
.
SWITCHFOOT'S cross-country trek with Anberlin this past fall drew sold-out crowds and rave reviews in virtually every market. Local chapters of StandUp for Kids (
www.standupforkids.org
), a national nonprofit volunteer outreach organization dedicated to making a difference in the lives of at-risk, homeless and street kids, collected backpacks at the shows. The backpacks will be used to distribute food and essentials to kids served by the organization.
In celebration of their ongoing partnership with StandUp For Kids, SWITCHFOOT invites fans to submit their most creative hoodie designs – inspired by
Vice Verses
– for the chance to have it printed and distributed by Jedidiah Clothing, with proceeds benefiting StandUp For Kids.
Click here for further details
.
Each year the band hosts the
Switchfoot Bro-Am Presented By Hurley
, an annual concert/surf contest/silent auction. The event has raised more than $500,000 to date for San Diego-based children's charities, including StandUp for Kids.
A vinyl edition of
Vice Verses
– limited to 1,000 copies – is
available now for pre-order
. Billboard praised
Vice Verses
' "powerful, anthemic rockers" and
Relevant Magazine
called it SWITCHFOOT'S "most unique" album yet. "[The] gorgeous, swelling 'Restless' sounds plucked from U2's
Achtung Baby
," said Alternative Press. "But the real standout is 'Souvenirs,' a stunning ballad that, if there's any justice, will go down as one of the band's biggest hits to date."
UPCOMING U.S. TOUR DATES
11/30 Pittsburgh, PA @ Stage AE
12/1 Richmond, VA @ The National
12/2 Charlottesville, VA @ Jefferson Theater (SOLD OUT)
12/3 Charleston, SC @ The Music Farm
12/4 Jacksonville, FL @ Met Park
12/6 St. Louis, MO @ The Pageant
12/7 Nashville, TN @ Cannery Ballroom
12/11 San Diego, CA @ Valley View Casino Center
12/16 Pharr, TX @ Pharr Events Center