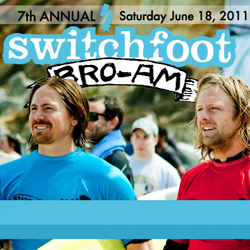 SWITCHFOOT Announces 7th Annual BRO-AM June 18
Monday, May 16, 2011
The Switchfoot Bro-Am Presented By Hurley will take place on Saturday, June 18th, at Moonlight Beach in Encinitas, CA. The surf contest/beach concert is the centerpiece in a weekend full of activities conceived by GRAMMY® winning rock band SWITCHFOOT to give back to their local community and benefit the San Diego and Oceanside chapters of StandUp For Kids (
www.standupforkids.org
), a national nonprofit volunteer outreach organization dedicated to making a difference in the lives of at-risk, homeless and street kids. The line-up for the concert will be announced soon.
Since its inception in 2005, the Bro-Am has raised more than $400,000 for San Diego-based children's charities. Last year's event was the most successful to date, drawing over 7,500 attendees and raising more than $135,000 for the local chapters of StandUp For Kids. While admission to the beach event is free, funds will be raised at an Auction Night Soiree (set for June 16 at a private residence), as well as through sponsorships, beach vendors and an after-party held on the evening of June 18th at the Belly Up Tavern in nearby Solana Beach (tickets on sale next week).
"The Bro-Am has been my favorite day of the year ever since we started it back in '05," says SWITCHFOOT'S Jon Foreman. "To see our hometown come together to help out a deserving group of kids is an incredible experience. The StandUp Kids are true survivors, unsung heroes who have endured so much. The Bro-Am is our chance to celebrate their journey: a day at the beach with friends, surfing, and a little rock and roll. Last year was our biggest year ever, and we hope to top it again this year."
David Bakelman, CEO, StandUp For Kids, notes, "StandUp For Kids is again proud to be chosen as the recipient of the proceeds from this year's Bro-Am. Jon, Tim, Chad, Jerome and Drew show the true commitment of impacting homeless youth in Southern California. They have shown a tireless effort to help homeless youth, one at a time, and are an inspiration to our volunteers and homeless youth."
San Diego-based Sustainable Waves, which utilizes the renewable energy sources of the sun to deliver 100% pollution-free concerts, will again provide cutting-edge solar-powered sound and staging for the Switchfoot Bro-Am. By using solar power rather than a diesel generator or grid power, the Bro-Am will avoid emitting approximately 1,000 lbs of CO2 into the atmosphere (the equivalent of not driving your car approximately 1,100 miles or the annual sequestration of 66 trees).
Four-person surf teams secure their participation via sponsorship donation to StandUp For Kids. This year's teams will include riders representing Hurley, Billabong, Surfer Magazine, Transworld Surf, Surf Ride, Jetpilot, AKA and Shaper Studios Surfboards as well as members of SWITCHFOOT. For the second consecutive year, the Bro-Am will also feature a junior division in the surf contest. Rather than a financial donation, the youth teams that collect the most clothing donations will win a spot to compete. The beach day will also feature a nerf surf jousting exposition and an expression session. For additional details about the Switchfoot Bro-Am Presented By Hurley, please visit
www.switchfoot.com/c/bro-am
.