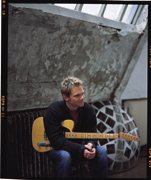 Suffering Out Loud
That's a hard confession, especially if you're expected to know the answers and talk about them on stages before thousands of adoring fans. Even harder when, at one time not too terribly long ago, you did have the answers. Or so you thought.
While the unfortunate tendency for many Christians is to wrap up all of life's messes and mysteries into a contrived, "God-is-great" package, Chapman resolutely says, "I just don't know. Those are the scariest words I've ever said because I'm a guy who wants answers. I want to know why, and I want it to make sense."
But the last two years have not made a lot of sense for Christian music's golden boy. Since releasing his ninth studio album, Speechless, in 1999, "why" has been a staple in Steven's vocabulary as he and his family, wife Mary Beth, daughters Emily and Shaohannah and sons Caleb and Will Franklin, have walked through painful places with close friends as well as in their own family.
In May 2000, the Chapmans stood by friends as they grieved the loss of their cancer-stricken 10-year-old. Two months later, Steven and Mary Beth wiped away more tears as another family was jolted with the news that its mother had died in a freak horseback riding accident, leaving behind four young children. Still more questions came when the Chapmans watched two families—adoptive parents of bi-racial children—cope with their kids' Reactive Attachment Disorder, a serious psychiatric illness that plagues adopted children, especially those abused early in life. Out of desperation, the parents placed their children in treatment centers thousands of miles from home.
"The kids are looking at them and saying, 'I've never loved you, and I wish you were dead,'" Steven explains. "And the parents are telling me, 'Even if I lost a child, it would be easier than this because I'd be able to put closure to it and know that I'd see them again." In February 2000, the "why's" got even more personal as Steven learned his mother, Judy Chapman, had been diagnosed with cancer, stage three. In June, Chapman himself was in and out of doctors' offices. Until tests would conclude in July a virus had attacked a nerve in his vocal chords, Christian music's most decorated artist, including 44 Dove Awards and four Grammys, wondered if he would sing again.
For the first time in Chapman's 38 years, he couldn't wipe away life's messes with Scripture, even prayer. His faith was shaken.
"Even two years ago, when I was dealing with the school shootings in Paducah, Ky., and Columbine, I could still see God," Steven recalls. "There were the Cassie Bernall stories, and the parents saying, 'We see God.' But this time, I couldn't get any sense of moving on. It's like we grieve and grieve, then wake up tomorrow and things are worse instead of better. My faith has been so rocked by all of this."
Question: Where do you go when the usual places you meet God turn up empty?
You've been there—that place where reading Scripture feels like you might as well be reading the phonebook, where prayer is a matter of going through the motions. Over the last two years, that place has been familiar territory for Chapman.
"In this season I've been passing through, I run to His Word for comfort and answers, and I feel more alienated by it than drawn to Him," Chapman says. "I open up my Bible and think, 'I've never seen that before. That doesn't sound like You. I thought I knew You.'"
In his book Reaching for an Invisible God, renowned author Philip Yancey writes: "There are days and seasons of life where my faith consists of acting as if this whole thing is true." Yancey's admission is comforting to Chapman who read the author's latest title and his 1997 work, Disappointment With God, over the last two years.
"When Philip Yancey can be that honest," Steven says, "for me that's encouragement in the midst of this time of unknowing and darkness I'm walking through."
Yet sometimes life's darkest roads reveal truths that otherwise would never come to light. "If you want to find Jesus, go to the places He said you'd find Him," Chapman says like a man who knows. "Jesus said we'll find Him in the suffering, in those who are hungry, the little orphans. 'If you want to experience Me, you'll find Me in these places.'"
Steven recalls the New Testament passage in hindsight, almost two years since the family flew to China to welcome 7-month-old Shaohannah into its fold. Abandoned at birth, Shaohannah, 2, has been a constant reminder of God's silent presence, Chapman says. "We were dirty and needy and belonged to no one, and God loved us unconditionally and took us into His family, never thinking for a minute about doing anything less," he says. "Every time I look in the face of Shaohannah, I am reminded of how far Christ stretched to love me."
The name Shaohannah, says Chapman's wife, Mary Beth, tells the story of how their little girl from a Changsha orphanage in China's Hunan province, came to rest at the Chapman's home in picturesque Franklin, Tennessee. "Shaohan," Steven discovered, means "laughter" in Chinese, while "Hannah" means "gift of God's grace." One look at the beautiful, doll-like toddler, and one would assume Shaohannah was named for her own laughing eyes, but the story is more complex, unfolding four years ago.
It was on a Compassion International trip to Haiti that Emily Chapman, then 11, opened her eyes to a world void of Christian music and Southern cooking.
"During that trip, we went to some schools and played with the children," says Emily. "From then on, I've had a passion for missions. When I got home, some friends of ours had adopted a little African-American boy, and that kind of started me thinking about adoption. I've always wanted a little sister, so I started praying for one, and I let Mom and Dad know that."
"When Emily first started talking about adoption, I thought, 'Yeah, right' and laughed," says Mary Beth, "probably like Sarah did when God told her she would bear Isaac. Back then, I just couldn't see it."
Two years later, still praying for a baby sister, Emily went with her dad to a Bethany Christian Services fundraising banquet. There she and Steven were told of China's great need.
Though exact stats are sketchy, it's estimated that up to 100,000 babies are abandoned each year in China due to the country's one child policy among married couples (two children for rural families where 80 percent of the population lives). Because males can work and carry on the family name, 70 percent of abandoned babies are girls. Sixty percent are disabled.
The world's most populous country with 1.3 billion people, China instituted the stringent one child policy in 1979, responding to the rapid increase in the birth rate under former leader Mao Tse-tung, and a fear that the exploding population couldn't be fed. Chinese couples who violate the policy, either by exceeding their child limit or having babies outside of marriage, can face heavy taxes and other penalties. While the Chinese government says the policy has prevented an extra 300 million births, the rules have created other serious issues: abandonment, overcrowding of the country's 1,200 orphanages and an imbalance in the population, which often fuels underground slave trade of young Chinese women. Only 200 of China's orphanages handle international adoptions, says Sue Merton, Bethany Christian Services' Asian program director.
In recent years, China has fallen under tremendous scrutiny by human rights organizations worldwide as various press have reported on the crisis. However, the Chapmans are more apt to point fingers at sensationalistic articles than at the Chinese government.
"When you talk to these people," Steven says, "you realize they love their children just like we do. I'm not condoning how China has responded to the problem, but we need to understand that we here in America have no concept of how huge this problem is. It goes so deep."
Still, even though orphanages in China were overflowing, a law prevented couples outside of China with more than one child from adopting an orphaned Chinese baby—until three years ago, about the time the Chapmans started thinking seriously about adoption.
"Some friends with adopted children were over one night," Steven recalls, "and they asked me and Mary Beth, 'Do you feel like there's an empty place at your table?' The more we thought about it, we came to realize that missing person was our daughter who was born in China by a mom who couldn't take care of her.
"I don't have the answers to the horrible situation in China," Chapman says, "but we didn't really need the answers. We just needed to do something. I knew we weren't doing the comfortable thing, the sensible thing. Our parents and friends, even our own emotions, told us that. But somewhere in my heart, I knew we were doing the right thing for the right reasons."
Question: What do you do when God feels non-existent?
When in doubt, wrote author Mark Twain, tell the truth. Twain's belief could very easily have been Chapman's mantra over the last two years of questioning and searching for a God whose enigmatic ways continued to perpetuate doubt.
That honesty is heard loudly on his new guitar-loaded album, Declaration, which, he says, contains some of the most personal lyrics he's ever sung—a significant statement considering Chapman has written or co-written the preponderance of songs on all his albums.
"When it came time to talk about [writing] the new album, I didn't have closure on anything that had happened. I still don't," Steven says. "And this was before I lost my voice. I asked myself and God, 'What do I have to say about all this?' I either just talk about happy things and pretend nothing's happening, or I just flat out don't write songs and go find another thing I'm supposed to do. Or I just suffer out loud and let these songs be whatever they're supposed to be."
The nine-time Dove Songwriter of the Year chose the latter option. And based on the album's 13 songs, Chapman, like the Psalmist David, has learned the art of questioning God in one breath and praising Him with the next.
Responding to friends dealing with the hurts of their children, Chapman wrote the soaring ballad "Carry You to Jesus." "I just said there is no way that I can begin to know the pain you feel," Chapman says, remembering the songwriting process. "I wake up in the middle of the night just crying for you."
Perhaps the album's most candid statement is reflected in its appropriate title—the declaration of a man who, as My Utmost for His Highest author Oswald Chambers wrote, is "just trusting God and doing the next thing."
"I found myself saying, 'OK, I don't have the answers, and none of this makes sense. But I'm just going to walk in this direction.' I don't feel a cotton-pickin' thing, but I'm going to say, 'Jesus is who He says He is,' and that's true not because I feel it or can grasp it. If I can say words, I'm going to say that Jesus is Lord and God is good, and ultimately good will conquer evil because He's on the throne."
Paramount to the album is the song "God Is God," a cinematic swirl of honest confession ("And the pain falls like a curtain on the things I once called certain/And I have to say the words I fear the most/I just don't know"), and Job-like epiphanies ("Can I form a sea or mountain… Can I even take a breath without God giving it to me").
"Like Job, I'm sitting here never more confused and never more wondering, 'God, how do You show up as Redeemer in all of this?'" Chapman says. "Then I turn in the midst of that pain, and it's like Jesus Himself shows up and says, 'Do you have any idea who I am? Let Me walk you through the next five minutes of this. I won't give you answers, but I'll give you Myself.'"
Chapman says some of the songs on Declaration, including "When Love Takes You In," a lush piano and strings ballad written for Shaohannah, are among his favorites. "I cried when I wrote them, and I cried when I sang them."
That's partly why the idea of not singing these songs on stage and in concert was especially disturbing, he says, adding that all indications are that his voice is recovering and should be back by the time he heads out on a spring 2002 tour. The last few months of silence have been the scariest place he's ever been, he says, rivaling his parents' divorce.
"I've never seen him shaken like that," says Mary Beth, who will celebrate 17 years of marriage with Steven this month. "I was the strong wife who said, 'If you could never sing again, you are an awesome producer and songwriter. You have so much to offer.' He agreed, but reminded me that this was all he'd ever done."
As with any trial that knocks us to our knees, the thought of losing his voice, Chapman says, has challenged him to look into his life to understand what he's supposed to learn.
"The other day I was reading about fasting and how it's about taking a God-given gift and setting it aside to get a clearer understanding of something," he explains. "In a sense, I really do feel like this is a fasting from this gift that I so often use to block out the pain and confusion. It keeps enough noise going that I don't really get quiet. If I'm learning anything in this process, it's that I really need Jesus, nothing more, nothing less."
Question: How do you put questioning faith into action?
Quoting the father who beseeched Christ to heal his dying son, Chapman says his prayer over the last couple of years has been "Lord, I believe. Help my unbelief." For him, faith has never been more difficult nor as tangible as in these last two years.
"Adopting Shaohannah is the most profound experience of our faith and of the grace of God coming alive in our hearts that we've ever experienced," he explains. "We've seen what happens when we step out of our comfort zone. This is how we respond to the gospel, by putting it into action." Mary Beth adds, "For the first time in my life, I feel like I've seen the miracles that happen when you step out in faith—no matter how much you're trembling—and allow God to work," she says, thinking about her newest addition.
"When I go to a place like China, I just realize there is so much need," Mary Beth continues. "As Christians, we are called to serve others whether that's on the mission field in China, adopting a child, or serving in your own community and church. We need to not be sitting on our bottoms not doing anything."
In July, Steven and Mary Beth returned to China with Shaohannah—a trip they plan on making every year. For both of them, the country has become part of their present and future. While they were there, government leaders who work in China's orphanage system invited Steven to come back and sing at the next fundraising event for the orphanages. "That would be the ultimate," Steven says, "getting to stand up in the middle of communist China and sing about my faith, and raise money for orphans at the same time. "
Both Steven and Mary Beth have dreams of one day living in China and running their own orphanage or partnering with a ministry in China to enable U.S. visitors to serve the needy there. "Instead of 'Let's go cruise the Bahamas with Steven Curtis Chapman,' I want to do, 'Let's go serve in China,'" Steven says. "We think that's what part of our future will look like. We're connected now with enough people that we could go back and serve in the orphanages there. They need people to do everything from painting walls to holding babies."
In the meantime, the Chapmans have set up a foundation, Shaohannah's Hope, designed to offer financial aid for Chinese adoptions.
"Our prayer for Shaohannah, as it is with all our kids, is that we would raise her to want to do something that impacts the world in a godly way," Mary Beth says. "For Shaohannah, the ultimate would be for her to grow up and want to be a missionary to her people."
The answers still aren't there for Steven Curtis Chapman, even with the adoption of Shaohannah, the making of a new record and all the sleepless nights of the last two years. The all-important closure Chapman has sought throughout life still eludes him.
"I'm coming closer to being OK with that," Chapman says. "I think what I've learned is that God's more mysterious, more uncontrollable and unexplainable than I have ever known Him to be. As strange as these seasons are, I really think they're God's hand embracing us to say, 'You're going to feel distanced. You won't understand. But as you trust Me, I will take you into deeper relationship—a realization of your need of Me. You can trust Me and let Me be God.'
"These are all things I want to understand some day."