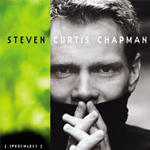 Story Behind the Song: 'I Will Be Here'
February is traditionally viewed as a month to celebrate love and so Steven Curtis Chapman's classic wedding song "I Will Be Here" seemed an appropriate song to cover.
But the inspiration behind this song is a story of love that persists even through difficult times. Read on for the story, and for more on this song check out I Will Be Here (J. Countryman), a book Chapman and his wife Mary Beth put together based on the song. In addition to their thoughts on marriage and each other, the book includes love letter contributions from the Chapmans' friends and family.
When Steven Curtis Chapman was in the middle of recording "I Will Be Here" back in 1989 for the More to This Life album, producer Phil Naish proclaimed, "Man, I bet this is going to be sung at weddings for a long time." Chapman glanced at him with a puzzled look and asked, "Do you really think so?"
And while Chapman's question may seem absurd now, he raised it because the words of commitment weren't written out of experiencing the warm and fuzzy feelings of a romantic relationship described in many love songs. Rather the lyrics were penned out of pain.
When Chapman and wife Mary Beth married in 1984, they were young but possessed a couple of things that many newly-married folks don't: a healthy realization that living together wouldn't be easy and a good role model to follow by observing the strong, spiritually-centered marriage that Steven's parents had. And even with that to their credit, they discovered early on that marital bliss isn't always the order of every day. "We were different in many ways that we did not know we were until after we were married for a few months," Chapman says.
In the middle of coming to terms with these idiosyncrasies, the couple also had to deal with the demise of Steven's parents' relationship. "So in the process of that, my parents did end up divorcing, [and] it really shook the foundation of my faith, my ideas of marriage and everything because, again, with my parents, there was a strength there."
With the fears the Chapmans had about the state of their union, Steven wanted to assure his wife that their marriage wouldn't crumble. "It felt like I needed to drive a stake in the ground again and say to her, 'No matter how I feel when I wake up tomorrow, no matter how disillusioned we may be at different points of this, I have made this commitment to you, and I will be here when you wake up.' Because I think there was this real fear in her that said, 'Wow, if this happened in his parents' lives, what assurance do we have that this won't be our story as well?'"
In writing the words "And just as sure as the seasons were made for change/Our lifetimes are made for these years/So I, I will be here," Steven found a release for his troubled heart and also discovered a way to encourage others. "I was so surprised when people began to use the song as a wedding song and to have them say to me what a beautiful song of commitment it was for them," Chapman recalls. "It was one of many ways God redeemed that [experience] in my own [life] and continues to."
Before he began sharing the story behind the song from stage, however, Chapman wanted to make sure he had his parents' blessing. "They even have seen this as part of the way God has been able to redeem some of that pain and heartbreak in their lives to encourage others."