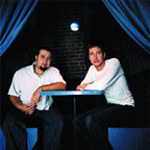 Once & Again
Wednesday, June 13, 2001
They say what doesn't kill you makes you stronger. Circumstances that push the limits of human fortitude often usher in periods of great personal triumph. Consider Moses, Job or King David. Consider Helen Keller, Nelson Mandela or two-time Tour de France winner Lance Armstrong. u Consider Smalltown Poets. Certainly all afflictions are not created equal, but these seemingly random individuals share one common denominator that ultimately helped shape their destiny: a determination to survive and thrive despite seemingly insurmountable odds. u Smalltown Poets' Miguel DeJesus and
Michael Johnston would probably be aghast at such comparisons. After all, the threat of losing a beloved band isn't quite the same as fighting cancer or a giant who is more than nine feet tall. But when a musical dream results in the sale of more than 300,000 records, numerous award nominations and several No. 1 singles and music videos—and then begins to fall apart—you wrestle.
The original five members of Smalltown Poets came together through mutual friends in May 1996. Bassist Miguel DeJesus moved to Nashville after graduating from Greenville College. Keyboardist Danny Stephens and vocalist/guitarist Michael Johnston were just dissolving a band known as Villanelle and were interested in forming something new. After recruiting DeJesus, drummer Byron Goggin and guitarist Kevin Breuner, the band took on the Smalltown Poets moniker and wasted no time in finding its sound.
"We met, started writing and did a demo that summer," says DeJesus. "It included 'Prophet, Priest and King,' 'Everything I Hate' and 'Who You Are.' When we sent it out, things went crazy—we were getting interest from almost every label. By November we were in the studio recording our first album."
The band's self-titled debut remained in the Top 100 of the Christian sales chart for 17 straight months, and the Poets' sophomore follow-up, Listen Closely, also performed well at the cash register. Extensive touring and chart-topping radio singles fed an already burgeoning career. Then—seemingly out of the blue—three members left the band.
"You don't know what's happening when the members of a band that's really working come up to you one by one, saying, 'I think I'm meant to go now,'" says DeJesus. "When this band came together there was something at work that was bigger than all of us. We worked so hard to achieve what we had. Here people were really embracing [us], and all of a sudden it felt like it was starting to come apart. Byron came to us and said, 'You know, I've been praying about this for awhile, and I feel like God is calling me out of this to do something else.'"
That something else for Goggin happened to be fulfilling a longtime dream of driving a show car for NASCAR. Approximately six months later Stephens opted to stay closer to home by pursuing a career as an artist manager, and a year after that Breuner chose to leave the band in order to pursue his love of photography and film. These departures left DeJesus and Johnston wrestling with a steady stream of questions regarding purpose and direction.
"Obviously there was some uncertainty," says Johnston, insisting that the departures were amicable and that the five original band members remain the closest of friends. "One by one these guys felt like they needed to follow God in a different way. It's great to be able to see them doing what they committed to in the first place—that is, to be honest about who they are as people and how they need to apply their faith. Unfortunately for the chemistry of the band, they decided that they needed to step outside of [the band]."
DeJesus remembers the quandary well. "We thought, 'Wow. Is this coming to an end? Are people going to give us a chance if we continue without the other members?'" he recalls. "For awhile there was a lot of searching. But the more we prayed, the more we determined to stick together to do something. We didn't know if we'd continue as the Poets or not, but we came to a point where we felt confident in carrying on. We really believed in the vision that God was giving the two of us."
That vision, according to both Johnston and DeJesus, was completely realized in the band's third studio album, Third Verse, which sports a decidedly edgier feel thanks in part to producer Paul Ebersold (Sister Hazel, Three Doors Down).
"Miguel and I both agreed that we wanted to stretch a bit and maybe record [a sound] that was closer to our live show," says Johnston. "It's got a little more of an edge and is a little more focused on guitars."
"We were given the opportunity to make a third record," adds DeJesus, "and Michael and I didn't take that for granted. We felt responsible to God and to the fans to go the extra mile in soul searching for this record."
Artistically and poetically making people think is what Smalltown Poets has been up to all along. Even though three core members departed, the band's artistic standard and mission remained intact. Determined to carry on, DeJesus and Johnston pulled together a trusted group of colleagues and friends who helped them make Third Verse. Since then they've added former Eager drummer Paul Eckberg and former Sonicflood guitarist Dana Weaver to round out their live band. (Pictured on page 35 are Paul Molk and Matt Goldman who contributed to Third Verse and still tour occasionally with the band.)
It's a journey that began with numerous questions and has resulted in what appears to be one profound answer. "Being able to do what we love to do and going through some of the challenges we've had to go through, we've seen that our faith holds up," says Johnston. "Not only does that help us understand that God is faithful and trustworthy, it's also helped us to understand that knowing God is the primary calling in life. It really is true that if we seek that calling first and are really serious about knowing God, then the other things in life just fall into place."