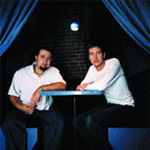 In Concert—Smalltown Poets
Ever wonder what it's like to be on the other side of the concert stage? What happens behind the scenes before and after a show? What keeps your favorite groups pounding the highways from city to city night after night? (Hint: It's the fans!) This month we gave our reviewers a vacation to look at live music front and center from the stage with the help of Smalltown Poets' frontman Michael Johnston.
Summer concerts always keep artists on their toes. For example, usually by the time I to the conclusion that it's OK to start wearing warm-weather clothing, my band Smalltown Poets will have a concert scheduled in Bangor, Maine, and I'll find myself stepping off of a cold airplane into an even cooler northeastern breeze.
On the other hand, I also have the memory of last summer's Cornerstone set. It was our first time at the festival, which takes place in the middle of sun-drenched, drought-dreaded Illinois. We were so heavy with heat and humidity that day that all our energy had to be directed to concentrating on not passing out before the first song was even done. I am feeling heat exhaustion now just thinking about that long 45 minutes onstage. I'm also remembering that having people there to hear us play made the heat bearable.
This June we were among the first artists to arrive at the Godstock festival in Waukesha, Wisconsin. It was our first time to perform there, and we kicked off the day at about 3 p.m. There had been a threat of rain earlier but the mild wind and partly cloudy sky made conditions rather pleasant for band and audience.
We began our set in front of a steadily filling lawn. Chairs were provided inside and outside of a small white picket-fenced area that was designated the most desirable place for listening and watching. By the time we got to "The Gospel Is Peace," everyone was on their feet and singing along on the chorus. People seemed anxious and ready to sing and shout to the Lord regardless of whether or not they knew our music. We played a few new songs toward the end of our set and had a wonderful time with the crowd.
Unfortunately, we didn't get to talk much with people afterwards due to the long drive to Kansas City we had in front of us (We were scheduled to play at a Royals game the next day). We did get to meet a few very encouraging fans while on our way to say thanks to Reed Martin, the Godstock promoter. From there we made one last pit stop at the catering tent before getting on the bus, where we got to talk about gear and catch up with Derek Webb of Caedmon's Call while snacking on bratwurst. I enjoy that part of the summer festival season when we get to renew acquaintances with other musicians whose work we admire.
At the end of the day I don't know what is it that makes fans of Christian music so loyal, tenacious and eager to drive hundreds of miles to camp or live out of a car and still graciously greet with cheers each artist or band that plays. But I know the best part of festivals for Smalltown Poets is getting to play our songs for those who save up, take off, chaperone, pitch tents, brave festival showers and take long or short journeys to hear Christian music!