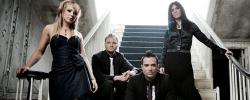 Q&A with Skillet (Part Two): Waking Up, Lyrically Speaking
Tuesday, August 18, 2009
By Andrew Greer
If you think all the recent mainstream attention afforded Skillet has gone to the Christian hard-rock poster child's head, think again. Even though their platform has expanded exponentially since releasing the nearly gold-selling Comatose three years ago, the hard-hitting foursome has maintained their cool even in the midst of promoting their freakishly anticipated CD, Awake, due out August 25.
In the second installment of a three-part interview surrounding the record, frontman John Cooper explores the musical and lyrical themes behind Awake and tells CCM why the band holds tight to its Christian worldview.
CCM: Comatose was a huge record for Skillet. Wait, is a huge record for Skillet. What is different about Awake?
John Cooper: We've been known for turning huge 180s. One record sounds like hard rock and the next record sounds like polka. [Laughs] This record is not shocking in that way. But we did try some new things.
First, the record is more aggressive. The guitars are louder. Overall, it sounds a bit heavier. And that was intentional.
Secondly, we tackled some new issues and said things in a different way. The lyrics on this record are more in your face. They're a little grittier, a little darker.
CCM: What was it like working with producer Howard Benson (Daughtry, My Chemical Romance, All-American Rejects)?
Cooper: It was a great experience. [Howard produced] one of my favorite rock albums, P.O.D's Satellite, which is a big stretch for me because I hate rap rock. With P.O.D., I was like, Oh, OK. This is why people like this music. And I think that's because of Howard Benson. Not that P.O.D. isn't awesome! [Laughs] But I think Howard did a great job of making it very commercial, making it have melodies that were pop-oriented for a hard-rock band.
That's the reason I wanted to work with him. My Chemical Romance was a band that was very out there before Howard worked with them, very unusual. And then I heard Howard's stuff and I thought, This guy really knows how to make marketable commercial music with cool rock bands.
CCM: Lyrically, Awake stays true to your Christian foundations. With some success in the mainstream market, are you ever tempted to water down the verses a bit?
Cooper: It's not as black and white as, "I don't want to say this about Jesus because I'm embarrassed about my faith" or "I think people won't like us because of my faith."
The temptation is subtler, when I start feeling like, "OK, if I say this too clearly about my Christian faith, then we're not going to be reaching people in the mainstream market." That's when I really start leaning on my wife. I'll ask her, "How does this hit you? If I say, 'I need a hero,' do you have any idea what I'm really talking about?" [Laughs] In that relationship, God really gives me a lot of clarity. I just pray, "God, this has always been about you and reaching people. Help get me those lyrics."
CCM: Each Skillet record has some thematic message you want to relay to your listeners. What is that message on Awake?
Cooper: Every year [the world] seems worse than the year before. I don't know if that's just me getting older or if it is actually getting darker. But it seems there's more senseless violence, more kidnappings, more wars—now this economic crisis. Sometimes it feels like there is no hope left. But, it's time for us to see there is a glimmer of hope and we can face these issues being awake.
I'm facing my inner struggles awake and alive. I'm going to stand up for what I believe, and no one's going to sway me from what I believe. And I believe my life is going to make a difference.
CCM: "Sometimes" is a really dark song with some tough lyrics. What's the story?
Cooper: This is the one song on the record that I was thinking, "Is this going to come out OK?" I like what it has to say even though it is dark. Sometimes, just talking about feeling bad makes you feel a little better. There's no hope offered, no answer offered, but having someone to talk to makes you feel less encumbered.
It's this battling of the old man and the new man. Sometimes I just realize I'm selfish and stubborn and I want to do what I want to do. That old man wants to be resurrected, but you don't want that guy to come alive because he's dead and he stinks. Hopefully, as Christians, we pray, and that person dies a little more every day. We become a little more like Christ every day.
CCM: Capturing raw feelings on CD is probably one of the most attractive aspects of Skillet, don't you think?
Cooper: If I [wrote] 12 songs that made you feel down and depressed, I don't think I would feel comfortable with that. But having a song say, "This is the way I felt when I wrote this song," I think people relate to that.
My hope and prayer is fans get the record, or see us live, and they find out that you don't just have to face the world; you have to face yourself. That's what the Awake message is about. I'm waking out of my coma, and suddenly I realize this is a little harder than I thought. I'm a little more messed up than I thought. And I gotta deal with this stuff.
Click here to read Part 1 of our three-part interview with Skillet.

For more info on Skillet, visit skillet.com.