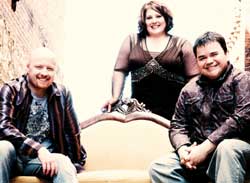 Two for the Road
Thursday, August 31, 2006
For its new duets album, Bless the Broken Road (Curb), Selah took an unusually personal approach.
Change is rarely easy, but it can often yield wonderful results. One of the best examples is Selah�s new project Bless the Broken Road�The Duets Album which released last month. The CD features Selah founding members Todd Smith and Allan Hall along with newest member Amy Perry and a variety of duet partners, among them Cynthia Clawson, Jason and Adam Crabb, Plumb, BarlowGirl, Kim Hill, Nicole C. Mullen and Selah alum Melodie Crittenden.
Crittenden had joined the trio in early 2005 after the departure of Todd Smith�s sister (and founding member) Nicol Sponberg. After six months of Selah�s hectic schedule, Crittenden opted to exit the group to concentrate on starting a family. Smith and Hall supported her decision, and they all remain good friends.
Both guys admit after Crittenden left, they really prayed about whether the group should continue. Hall talked to his pastor and began questioning whether �this chapter might be over and it might be time to move on.�
�It was really scary,� adds Smith, �because music is what I always wanted to do. If I had a 9 to 5 job, I�d get fired because I�d forget to go to work or I�d be so late.�
Feeling God leading them to continue, Smith and Hall decided to record a duets album that would incorporate performances from some of their favorite singers. They also began auditioning for a new female member. That�s when they met Amy Perry, a vivacious California transplant who had taken up residence in Nashville.
�She just had the whole package,� says Smith. �She could sing great as a soloist. She could blend great. She could harmonize great. She was just a great learner, and you could just tell by her spirit and attitude that she�d be great to have in the group.�
Hall was equally impressed: �When she came in and sang, in my heart that was when God was saying, �Here she is, and this is it. You�re going to be fine.� And it�s been amazing.�
Perry is happy to be part of the trio. �The guys have made it so easy and made it so there�s no pressure,� she says.
Perry does realize she has pretty big shoes to fill. �I know there are going to be people who like Nicol better, and that�s just how it�s going to be. That�s alright. You don�t have to love me as much as you love her�just be nice to me, and I�m all good,� she says with a big smile.

Read CCM's entire feature story on Selah right now! Follow This Link!