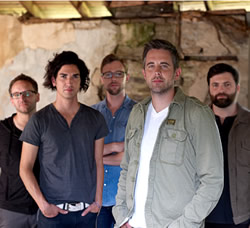 [CCM Magazine] Sanctus Real: Picking Up The Pace
Friday, February 01, 2013
"We are different, in essence, from other men.
If you want to win something, run 100 meters.
If you want to experience something,
run a marathon."
— Emil Zatopek, Czech runner;
winner of four Olympic gold medals
In an industry saturated with sprinters — one-hit-wonders and the like — Sanctus Real has distinguished itself in terms of longevity, authenticity and identity. Rather than make the hundred-yard dash to the next radio hit or top-selling record, they have borne the yoke of endurance by honoring the unique sound, message and gifts God has given them. And now, 16 years into one of the most solid and consistent music careers in the industry, it's easy to see why. Despite their successful tenure, they know that the best is yet to come and are doing their part to bring it out.
"We've learned a lot and been through a lot," says Chris Rohman, lead guitarist. "Now in our thirties, we're ready to run harder than ever before, writing about things that are important; issues we've dealt with. We want to proclaim how important it is to have a serious relationship with Christ. We have to run into the things we've been called to do. There's no time to waste."
"We're in a season of our lives that we want to do things with complete excellence and make some decisions as a band as far as how we're going to run as a band," adds Matt Hammitt, lead vocalist. "This is the time to pick up the pace and run."
Matt goes on to clarify that "picking up the pace" doesn't necessarily mean adding more tour dates; rather, it's an intentional decision to further polish their faith, their skill and their live show.
"We started when we were 16," says Matt. "Now we're in our thirties. This is a refinement of what we've done; not a departure. We started as kind of this young rock band and have been able to grow into what God has for us."
"We kind of had to learn how to make music," Chris adds. "None of us had any spectacular strengths; we leaned on each other and hammered it out. Eventually, we learned how to write more about concepts and from the heart from life experience and trial and error. Now, I think Matt has developed such a keen sense of good lyrics."
It was that very sense that catapulted their hit, "Lead Me" to the top of the charts for weeks on end.
It was that very sense that has evolved out of personal conviction and absolute transparency.
"I appreciate Matt's honesty and lyrics in that song," Chris says. "It's not just a song he thought would be cool. It's a real song."
A real song from a real husband with real kids in a band with other real husbands and dads striving to be the kind of leader they sing about…the kind of leader others can learn from.
"It's great to be a parent," says Chris, father of three. "It's a process too. You're always learning and growing. I hope that through this song and through my actions, I can be somewhat of an inspiration."
With 12 kids amongst all the band members, they have all prioritized family above music…even when it's hard.
"My wife and I know our biggest strengths and weaknesses," shares Matt. "Sometimes we talk ourselves into circles. She knows the deepest thought in my heart. That's the key to staying close. Be willing to change. Accept without consent and grow stronger through adversity."
If adversity were a prerequisite for strength, every member in this band could be counted a superhero.
While perhaps the most well-known journey they've traversed has been surrounding Bowen, Matt's two year old son, born with a severe heart defect, all the band members and their families have walked difficult roads and all the while maintained their faith in Him and their fellowship with each other. Even after their tour bus burned down, they refused to let their confusion come between themselves and God.
"After the bus burned down," says Matt, "I wrote a song that talks about how I don't know what you want me to see, but I know where you want me to be…close to you. Even over the past few weeks, God has been teaching our whole band so much about the right thing. For us, it's been an issue of communication. I feel like we've had the nice guys syndrome. Instead of telling people truth, taking whatever comes even when it's not what you wanted. We're seeing God's redemption and redemptive love."
Now, Bowen is thriving. Other babies have been born. Other obstacles overcome. Sanctus Real is seeing the power of God's redemption and telling the whole world about it.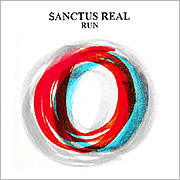 Call
Run
somewhat of a "best of" when it comes to lessons learned and love experienced, given that, as Matt says, "each album is representative of where we are at the time."
From tracks like "Pray," which offers the words so many often can't find, to "Nothing Between," which asserts that regardless of circumstance, the desire of a convicted heart is to have nothing between it and its Creator,
Run
is most definitely not an arbitrary sprint to the top of a chart. Rather, it is another solid benchmark in a marathon career that has been anointed, discerned and propelled by the author of faith.
Unwaveringly transparent, Sanctus Real is running the race to the glorious end.