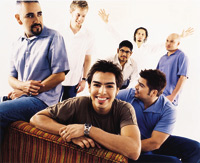 Taking A Joyride With Salvador
Wednesday, July 17, 2002
Unlike the Partridges and Osmonds of years past, MTV's new musically-inclined family, "The Osbournes," have demonstrated that a healthy family life in the spotlight isn't always a reality.
But, worlds apart from the Osbournes' Beverly Hills broods, the Austin-based family known as Salvador doesn't bicker, brawl or need a censor to edit its comments for an audience. And while the band will probably never see the Osbournes' new $20 million paycheck, these seven guys would likely argue that their job pays in equally-rewarding dividends.
Finding contentment in traveling from city to city together on their trusty tour bus, the men of Salvador view their career as a rare opportunity to see the world while doing something they love—sharing their joy and hope through having a relationship with Jesus Christ.
And ministering together is an opportunity that brothers Nic and Art Gonzales, their cousin Joshua Gonzales and their adopted extended family of Eliot Torres, Chris Bevins, Billy Griego and Pablo Galbaldón don't take for granted. After all, they never aspired to perform outside of their home church or the makeshift rehearsal digs located in the family garage. Signing a recording contract and performing in front of crowds of thousands were never their goals. They just hoped to fulfill God's will for their lives—and for Salvador, that calling just happens to involve music.
Even in the most serious of discussions, the men of Salvador always approach conversation with humor. When asked about how the band got its start, Art quickly interjects, "There's a rumor going around that we came out of prison, and that's so not true." After adding "We weren't in a gang either," the band bursts into laughter—something that happens loudly and often during our mid-morning interview at T.G.I. Friday's before a performance at Kentucky Wesleyan University in Owensboro that evening.
With everyone snacking on spinach and artichoke dip, Art sets the record straight. Far from the dismal confines of a prison, he and his younger brother Nic began attending their aunt and uncle's church at a very young age. After the congregation's worship leaders stopped showing up on Sunday mornings, the Gonzales brothers decided to step in and give worship-leading their best shot.
"I finally got fed up one day and said, 'Nic, if you go up there and play the guitar, I will play the drums. Anything is better than nothing.'" While Art admits it wasn't the most sonically-pleasing service with their mom and aunt joining them on vocals, it was the start that led them to where they are today.
As things progressed, the Gonzales brothers recruited their cousin to play bass, and Art and Nic's parents began their own ministry at King of Glory Church in Austin. Starting out in their mom's garage with a beat-up drum kit and guitars that were donated to the church by their grandfather, the three of them constantly rehearsed and honed their skills while leading the worship services on Sunday mornings.
"It was one of those things where God just brought us up in steps," Art explains. "That's where He brought us from—from playing inside my mom's garage to our own church…. I guess He saw that we were just trying, and He blessed that."
Content to be playing their songs in church, the Gonzales began raising money with their family by having car washes and selling homemade taco salads and barbecue plates to buy better gear and instruments for their musical endeavors. "I remember pouring every dime we had back into our gear," Art recalls. "And that's how we got started. They were humble beginnings, but we didn't struggle because our church was always there."
God in everything
But soon, the Gonzales' professional lives would radically change. The guys give props to Willie Nelson, whom they jokingly refer to as "their friend" because Art, Nic and Josh were playing at "his place" in Luckenbach, Texas, when record label executives decided to check out what they had to offer.
Art fondly recalls that particular gig because it didn't begin so well. "My parents drove out, my wife drove out, and it was just storming. And they kept pushing our time back. I think we were supposed to play at 8 p.m., so I remember getting really upset because our parents drove in from Austin, and it was getting really late," Arts recalls. "And I remember we got together, and I said, 'We need to pray because everybody's getting upset, and we shouldn't go onstage like this.'"
After praying together and eventually playing their show at 11 p.m., the band connected with someone afterward who would play a major role in their lives later on—artist manager Mike Smith.
After the show, Smith approached Nic. "I remember him telling me 'You know young man, it [usually] doesn't happen like this, but I believe you guys could make an impact on Christian music,'" Nic recalls.
Trying not to make too much of what he'd heard without doing his research first, Nic put Smith's business card in his wallet and made a few phone calls. Discovering from a friend of his that Smith "was legit," Nic called him, and soon he became their manager, and record label executives began frequenting the group's weekend shows.
Not too long afterward, then-Myrrh Records representative Jim Chaffee and producer Dan Posthuma flew down to see the band play. After seeing them perform two songs, Chaffee and Posthuma asked Smith what they had to do to persuade them to sign a deal. Coincidentally, Myrrh Records was an organization the band already loved because their favorite artist Bryan Duncan recorded for that label, and their favorite producer (Posthuma) worked on Duncan's projects.
"We had joked earlier that year about how much it would cost to get Dan Posthuma to come down to Austin and produce a record for us," Nic comments. "And that goes to show the irony sometimes of how God can be with everything and say 'All right, that's what you want, that's what I'll give you.' And that's what happened, and that's basically how we got signed."
After securing their record deal, the guys changed the band's former moniker (which they would not reveal even after constant prodding) to Salvador and added Torres (percussion), Bevins (keyboards), Griego (trombone) and Galbaldón (trumpet) to round out the group's distinctively Latin pop/rock sound.
Family First Even after landing the record deal, experiencing their dream scenario of having Posthuma produce the band's self-titled 2000 debut and securing a slot on Third Day's "Offerings" tour to promote the album, the group members' emphasis remains on their faith and the importance of family.
Whether it's hanging out on the bus, (where they're even polite when whomping each other at video games) or the five married guys returning home to their families, they strive to keep their priorities in check. Even as they continue to play hundreds of shows a year and up the ante considerably with the June 4 release of their sophomore album Into Motion (Word), their wives are incredibly supportive.
"From the get-go, my wife knew this was a calling from God—that He wanted me to do something with this band," Griego says. "So I know that she, with her heart, and with God, knew she would be making some sacrifices… and she's OK with everything that's going on."
And even though they're the single guys of the group, Nic and Josh are quick to point out that their bandmates are an integral component in their lives—whether they're traveling or home in Austin. While many would assume that spending a considerable amount of time traveling together and living in cramped quarters would lead to problems, Josh claims it's "God's honest truth" that they never fight or even bicker.
While it seems almost too good to be true with a "Real World" scenario of seven guys living together with thousands of miles logged on the odometer, Nic backs Josh up. "I don't know how many people can say that, but we've never had a fight," Nic asserts. "I think everybody checks their egos, and I think that ego is the thing that shouldn't have a place in Christian music…. Ego is for people who feel like they're establishing things on their own."
Doing the unexpected
With hopes of always remaining humble in their calling, the guys of Salvador don't mind approaching their ministry and career in a slightly left-of-center manner. Other than the tour with Third Day, the group has chosen to stay off of major tours and prefers the evangelical route of playing conferences like Promise Keepers.
"Playing with Third Day was an incredible experience because they were so amazing to us; they treated us like family and encouraged us more than anybody else in Christian music so far," Nic states. "But right now we choose to do what it is that we're doing because we believe we're put on the Earth for a purpose. I believe we were assembled for a purpose, and it's not always to be loved by hundreds or thousands of fans." Nic also remembers something his manager has taught him along the way. "We used to wonder what it was like to play in front of 50 people and go 'Who are we actually having an impact on?' and my manager told me 'You know what Nic? You have no idea who's in that audience. You could be playing or ministering to the next Billy Graham, Luis Palau or the next Michael W. Smith or Steven Curtis Chapman…. All it takes is one song.'"
And with those words firmly grafted in their minds as they play for audiences across the country and around the world, the lives of the zany, polite and exuberant men of Salvador may not make the best reality-television fodder. But these rock 'n' roll enthusiasts certainly try to leave their joyful mark on every place they visit along the way.