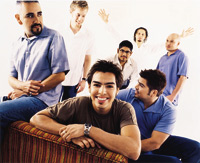 Salvador Live!: A Concert Review
Thursday, August 08, 2002
It's a tough standard to live up to when a group is touted as "Christian music's premier live band" in their press material. A music critic like myself could easily read that and become cynical before ever seeing the show. After all, we've heard claims like that before. But having seen Salvador play on a couple of other occasions, I certainly knew they had what it takes to impress. But how would their new songs translate, and how would the crowd react? That remained to be seen as I ventured over to the outdoor stage at Kentucky Wesleyan University.
With a stage that seemed a little small for seven guys and all their gear, Salvador not only made good on their publicist's claims, but managed to electrify a crowd who just heard both Joy Williams and The Elms play incredible sets.
Salvador contained enough frenetic energy to revive me from my nearly four-hour early morning drive from Nashville to Kentucky. I could hardly stop my feet from moving when they kicked off the show with "David Danced." But with my tendency toward "the full body spasm" Elaine mentioned in an episode of "Seinfeld," I tried to keep my enthusiasm in check.
"Lord, I Come Before You," from Salvador's self-titled project, was also a hit with its sassy horns and expressive vocal delivery from Nic Gonzales. Adding a funky bass line to the mix was his cousin Josh, who is probably the most serene of the group with his side-to-side stage movements.
Slowing things down with "Alabar al Senor" (yes, that's Spanish, in case you wondered), the band then regained its groove with the mid-tempo "Breathing Life," the first single from their new album Into Motion. With a strong hook and lots of energy, this is a song that's made for radio while possessing a unique flair.
While it would be easy to classify them as just another band in the praise & worship potpourri that's so prevalent these days, their Latin-pop/rock edge blended with worshipful lyrics really warrants its own category. Even on the Delirious cover "I Could Sing of Your Love Forever," they managed to leave a mark of distinction. This is one band that knows how to engage the crowd and keep them at that level throughout the entire show. If you get a chance to see Salvador live, be ready for an evening of high-energy worship.