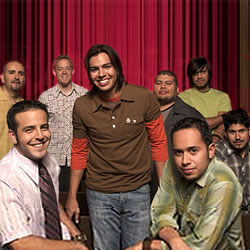 Salvador
Born out of a makeshift praise and worship band of preachers' kids, leader Nick Gonzales has no qualms in telling of Salvador's humble beginnings at their home church in Austin.

But, a little perseverance and a lot of practice paid off. Before long, the trio of Nick, older brother Art Gonzales and cousin Josh Gonzales had become Sunday regulars, leading their fellow church members in worship in a way that would make any preacher proud. This new generation in a long line of charismatic preachers and singers proudly continued the tradition of making a joyful noise. As their popularity at church grew, the talented group expanded their member roster and ventured outside of their church, taking their unique sound around the coffeehouses in Austin, and soon to larger gatherings around the country. Eventually bigger and bigger concerts came their way, including music festivals, youth conferences, and an invitation from evangelist Nicky Cruz to bring their musical fire to his crusades.

Salvador's membership grew to include conga-player and percussionist Eliot Torres, who had previously played in another Austin-based band, and keyboardist Adrian Lopez, who claims he knew joining the band was "the right thing" to do after meeting Nick.

An appearance at a gospel music festival in Lukenbach, TX, won the now local-favorites band a new fan--manager Michael Smith of Nashville, TN. Smith, who hadn't even planned to attend the concert originally, couldn't leave the room once Salvador started their set. Captivated by the band's raw talent and electric energy, he offered the wide-eyed Texas lads a management contract on the spot, and within a mere two weeks, Salvador had also signed agreements with Myrrh Records, Word Publishing, and the Jeff Roberts booking agency. In the year that followed, Salvador finished work on an independent live recording and performance video, taped at their city's world famous "Austin City Limits," while Myrrh began the process of mining for the gold within them.

Ranging in age from a mere eighteen all the way to twenty-nine, the men of Salvador might like to party, but they are also truly your boy-next-door charmers. The group's striking young frontman, Nick, 22, grew up in the church and in fact, finds spending time with his pastoring parents one of his favorite things to do. His brother Art, 29, gave up a full-time job, and even made a temporary move with his wife and three-year-old daughter back into his parents' home, to help start building the Salvador dream. Josh, 19, a cousin to the Gonzales brothers and fellow PK, is another church boy, who considers faith, his family, and music to be the three most important things in life. Twenty-four year old percussionist Eliot Torres adds a "Puerto-Rican" rhythmic flavor to his Mexican compadres' sound, and shares his bandmates' love for the church. Keyboardist Adrian Lopez, 18, who ventured from his San Antonio home to join the Austin ensemble, was already serving as a praise and worship leader in his own home church before lending his talents to Salvador.

Together, the best friends of Salvador have created something of a phenomenon. Taking the popular musical sounds they've loved (including a "Christian-music-only" house rule while growing up) and some of today's hottest musical styles, Salvador brings the idea of vertical pop music to a whole new level.