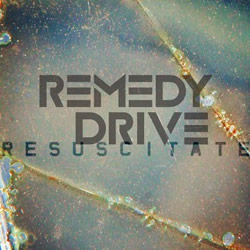 Resuscitate
REMEDY DRIVE • Resuscitate (Centricity Music)
Rating: 4 Stars

"Remedy Drive continues to be one of the most muscular and meaningful acts in today's modern rock world. Whether singing of the daily reliance on the Lord throughout "Better Than Life" or offering stadium-shaking praise throughout "Glory", there's plenty of meat in the message." — Andy Argyrakis

Check out audio clips of the songs from the album Resuscitate below...
Song Title
Length
Play
Price
Buy MP3
&nbsp

Better Than Life




Album: Resuscitate

3:40
Buy Song
&nbsp

Lost Cause




Album: Resuscitate

3:33
Buy Song
&nbsp

Resuscitate Me




Album: Resuscitate

3:45
Buy Song
&nbsp

God I Hope So




Album: Resuscitate

4:09
Buy Song
&nbsp

What Are We Waiting For




Album: Resuscitate

3:27
Buy Song
&nbsp

Don't Forget




Album: Resuscitate

2:50
Buy Song
&nbsp

Make It Bright




Album: Resuscitate

3:13
Buy Song
&nbsp

Crystal Sea




Album: Resuscitate

4:58
Buy Song
&nbsp

Glory




Album: Resuscitate

3:33
Buy Song
&nbsp

Hold On




Album: Resuscitate

3:22
Buy Song