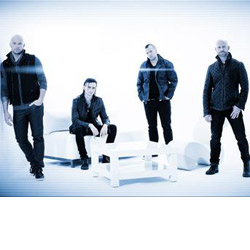 RED To Unveil 'Release The Panic' Tue, Feb. 5
Tuesday, February 05, 2013
Red (L-R): Anthony Armstrong, Joe Rickard, Randy Armstrong and Michael Barnes.
"RED continue to craft heavy, hypnotic, and heartfelt hard rock on their fourth full-length album. Release the Panic expands upon their patent sound with a more immense and immersive scope ... on the first single 'Perfect Life,' they carry a massive stadium-size refrain into crossover territory while 'The Moment We Come Alive' sails to divine heights on a tender piano and vocal crescendo. All said and done, it's one of the most epic, entrancing, and engaging hard rock albums of 2013 and RED's best work yet."
—Rick Florino, ARTISTDirect, February 4, 2013
The two-time GRAMMY-nominated rock group RED will unleash their fourth album
Release The Panic
in both Deluxe and Standard editions on Tuesday, February 5 via Essential (Provident Label Group/Sony). ARTISTDirect is streaming
Release The Panic
in its entirety Monday, February 4;
listen to the full album
and read the track-by-track Q&A with RED
here
. The video for the album title track, "Release The Panic," premieres today exclusively on
Revolver
magazine online. The concept for the post-apocalyptic, revolution fantasy clip was created by RED who brought Chris Corrado (
Eagle Eye, Charlie Wilson's War, Indiana Jones & The Kingdom of the Crystal Skull
) on board to direct the video. "We pulled out all the stops ... again," explains RED guitarist Anthony Armstrong. "This video is the sequel to 'Feed The Machine' from our last album. There are no rules when making a video, so we made a movie. We like the theatricality and metaphoric approach to making videos."
Watch the "Release The Panic" clip here (music begins at 2:54)
.
To record
Release The Panic
, the group teamed with producer Howard Benson (P.O.D., My Chemical Romance, Daughtry) at his brand-new West Valley Studios in Los Angeles. RED have delivered a potent set of standout songs that were mixed by Benson and Mike Plotnikoff including "Perfect Life," "Die For You," "Release the Panic" and "Same Disease."
RED is currently on tour this winter/spring for the Winter Jam Arena Tour. Expect the group to announce a nationwide U.S. spring tour soon.

Watch/share the Release The Panic Album Teaser
,
the "Release The Panic" lyric video
, and
the iTunes pre-order here
.
Following is the full tracklisting for RED's
Release The Panic
:
Release The Panic
1. Release The Panic
2. Perfect Life
3. Die For You
4. Damage
5. Same Disease
6. Hold Me Now
7. If We Only
8. So Far Away
9. Glass House
10. The Moment We Come Alive
Release The Panic Deluxe Edition Bonus Tracks
11. Love Will Leave A Mark
12. As You Go
13. Hymn For The Missing (Guillotine remix)
14. Death of Me (Guillotine remix)
15. Breathe Into Me (Remix Acoustica)
www.redmusiconline.com
www.facebook.com/redmusiconline
www.twitter.com/redmusiconline
www.providentpress.com