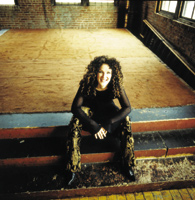 Plumb's Never Felt So Free
So here's the truth. There never was a band called Plumb. Tiffany Arbuckle-Lee was, is and always has been Plumb. However, she no longer has to deal with the repercussions caused by a record label bio that marketed Plumb as a band. "I'd rather be upfront, real and honest with what Plumb is," says the singer, smiling. "How it's marketed right now is how it truthfully always has been. It's very refreshing to be able to tell the whole truth and nothing but the truth."
Emerging from a four-year hiatus during which she switched record companies, declared bankruptcy, married her manager and even contemplated the end of her career as a live performer, Plumb released Beautiful Lumps of Coal (Curb) in March.
Signing with Curb will allow her a more ambitious foray into the pop world. And Plumb goes there unapologetically. She has always maintained that there is nothing wrong with "preaching to the choir," but she has felt led to minister to the unsaved ever since she performed in homeless shelters as a teenager.
"I don't market Jesus Christ," she says. "I am not fond of the marketing of Jesus Christ. Putting His name in a song intentionally is just as bad as leaving it out intentionally, and I don't do either.
"The biggest thing that makes me who I am is I have a huge faith in Christ and a personal relationship that I take very seriously. And because I take it so seriously, marketing Him feels very cheap. I almost feel disobedient when I fall into that trap. So I stay away from that."
And the 28 year old has seen how God has worked through her. She treasures the chance to radiate God's love in venues where she is regarded only as a musician, not specifically a Christian musician. Then, maybe a lighting technician or a bus driver notices, she says, leading to questions and the breaking down of stereotypes.
And her music has made an impact in ways she hasn't even seen. Someone posted her name and the lyrics to her hauntingly ethereal "Send Angels" from Plumb's self-titled album (Essential) on the Columbine Memorial Web site. Perhaps it was someone who knew Crystal Woodman, the girl who escaped the carnage in the library only after asking God to send angels. Perhaps it was someone who knew that those lyrics could comfort a ravaged soul. "That's so humbling," Plumb says when she hears the story, "because I'm just one of the vessels God's created. I don't take that lightly."
Three years ago, Plumb was in California for what she thought would be her last gig. She was planning to focus on a songwriting avenue that already had her linked with Mandy Moore, Jennifer Page, Jaci Velasquez and Naomi Streamer. But during an appearance at a record store shortly before the show, 19-year-old Briana Baker gave her a letter that detailed how "Damaged," a song about a girl coping with being molested, had changed her life. And the letter ended up changing Plumb's life, too.
"I sat there mesmerized," she says. "It just hit me: This isn't about me. It's not up to me to determine when I decide to quit doing this. I've been given a gift to communicate, like it or not."
She considered the possibility of re-signing with a label and touring, but only if it meant she would not have to compromise her boundaries when it came to issues like imaging. She says she had previously gotten "a bitter taste" in her mouth about the Christian music industry.
"All of my experiences in the Christian marketplace have not been bad," she says. "There may be a bitter taste there, but I don't feel vindictive. I don't feel sarcastic. Those were experiences. Some were good, some were bad, and I'm better for it."
Encouraged by her husband, she recorded three new songs and ultimately sparked the interest of Curb Records. The result is Beautiful Lumps of Coal.
"Your lump of coal may be that you didn't have a dad, you lost your wife in a divorce or you were sick as a kid," she says. "When enough pressure is put on a piece of coal, it turns into a diamond. The bad things in your life that you experience, whatever they are, can be turned into something amazing. Your future is a blank canvas that can be a beautiful picture."