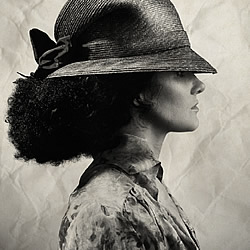 [CCM Magazine] Plumb: The Long Winter
Tuesday, January 01, 2013
FOR FANS PAYING ATTENTION,
Plumb's latest album,
Faster Than A Bullet
, has been a long time coming. The February release has been finished for nearly a year and a half. The lead single, "Drifting," a duet with Jars of Clay's Dan Haseltine, debuted in the summer of 2011 and "Need You Now (How Many Times)" followed this past July. For an artist, 19-plus months is a long time to wait for songs to find a home.
It's also abundantly clear fans have been waiting for the material. "Need You Now" was a fixture at the top of the iTunes charts, and dance hall fans have taken to her work on "I Don't Deserve You" from Paul Van Dyk's latest album,
Evolution
. Few artists can maintain such a strong radio presence over such an absence, but Plumb's penchant for melodies is second to none.
The reason for the delay is not an easy story to tell, as the last year has been an arduous one for Tiffany Arbuckle Lee. If a new album release is a mountaintop experience, the path leading up to her latest has taken her through the valley — one that not only caused her professional frustrations and delays but deeply personal crises as well. It's a season that Plumb refers to as her "dark winter," and it's a story she's just now finding beauty within.
"My husband and I were going through what I have now called 'Winter'," she says. "It was winter time, in every descriptive way you can think of winter. It was cold. It was dark. It was very empty. We started having very intense problems. Problems that had kind of been a very slow fade of an 11-year marriage that had lots of little nicks and dings and cracks."
Before becoming aware of the issues within the marriage, Lee describes her world as a "real-life fairytale," a phrase that actually gave way to a song of the same name.
"I just had become unaware and we were so overcommitted and so busy and so distracted," she says. "We have this really great big house and these really nice cars and all the money that we needed with these exciting careers and lots of friends and family and church. Our lives seemed very full. Three beautiful children. We were best friends, had this incredible marriage that we started out with traveling together, working together, seeing the world. I was just thinking that it just doesn't get much better than this."
Yet ultimately, Lee says that her marriage to her husband Jeremy unraveled the longer she remained unaware of what was really going on.
"I think I was living in a fantasy by being more prone to not being aware and being so busy and stretched so thin, by not slowing down and really kind of stopping, and taking inventory of your life and really spending quality time with God," she says.
It wasn't long until the pair had decided to separate for a season to get some space and clarity in the hope to right the ship that had gone off course. It was a season Lee describes as the "worst nightmare that I just can't wake up from." Ultimately, the two believed they were headed for a divorce and a loss of everything they'd worked so long to build.
"The bottom really fell out and darkness fell and it was the worst time that anyone can imagine of my life," she says. "It was like living in a nightmare and I literally remember pinching my arm on the way home one day. I picked the children up from school and I pinched my arm really hard on purpose because I just could not believe this was true."
The pair remained separated for most of that winter, and it wasn't until the spring that hope began to shine through. With hard work, a healthy community around them and an ultimate dependence on God, Lee says their marriage came to a healthier place than ever before.
"We have never been better," she says. "We have never been closer."
It was in this season that some of the songs began to take on a new life for Plumb. Even though songs like "Need You Now" and "I Don't Deserve You" were already written and recorded, the hope-filled lyrics became deeply personal stories that eventually restored her faith in God.
"'Need You Now' was a song that I had already written, but I was like 'If I ever needed you, I need you now,'" says Lee. "That song was like oxygen to me; it gave me hope. Everybody needs hope. Everybody needs to breathe. Hope is oxygen and we all need to breathe.
"It's just a song that meant so much to me. Whether it went number one or number nothing, I just wanted it accessible to fans for them to know that they weren't alone. Whether it's a marital crisis or any other crisis for that matter, that they're not alone. He will not leave. He will protect. He will provide. He will not give them more than they can handle."
For Plumb fans, the arrival of her new album will be a welcome addition to the catalog and a relief to finally have some new songs in hand. Yet for the artist herself, it will signal a greater reminder of a God who is faithful through any and all circumstances. She had already written the songs, but God had yet to tell the story behind them.