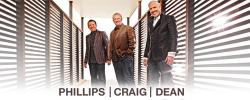 Phillips, Craig & Dean Nab "Inspirational Album Of The Year" At 41st Annual GMA Dove Awards
Thursday, April 22, 2010
Nashville, TN April 22, 2010… Phillips, Craig & Dean's Fearless took home the "Inspirational Album of the Year" honor at last night's 41st Annual GMA Dove Awards earning the trio their first album Dove win of their career.
"After singing for almost 20 years, to be honored with our first career Dove win for an album, specifically for Fearless, is such an honor," says Randy Phillips. "We are humbled by this accolade and the continuation of our ministry as well as the success of 'Revelation Song.' Thank you to the Gospel Music Association and to Jennie Lee Riddle for writing such a great song."
This adds to the stellar success Phillips, Craig & Dean has had with their 11th studio project, Fearless. The single "Revelation Song" was the longest running single of 2009 spending a whopping 17 weeks at No. 1 on the Billboard Christian charts, and has spent nearly a year in the top 10. In addition to the win, the radio hit popularized by Phillips, Craig & Dean won for "Worship Song of the Year" and was also nominated for "Song of the Year" at this year's GMA Dove awards. Phillips, Craig & Dean's performance of the song with Kari Jobe will also be a part of Sunday night's televised show.
The 41st Annual GMA Dove Awards were held on Wednesday, April 21, 2010, at Nashville's historic Grand Ole Opry House, and will be televised nationwide on gmc Sunday, April 25, from 8 p.m. - 10 p.m. EST.
Phillips, Craig and Dean will follow up "Revelation Song" with their new single "Great Are You Lord" at radio impacting April 30th.