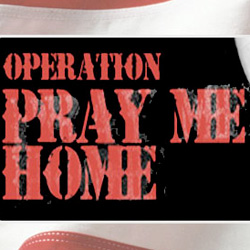 Operation Pray Me Home Event Planned for June 18 to Support Ft. Hood Phantom Trackers
Wednesday, June 15, 2011
Operation Pray Me Home (OPMH), a collaborative effort to partner the 2nd Squadron, 38th Cavalry Regiment, known as the Phantom Trackers of Fort Hood with adoptive (civilian) families, will take place on Saturday, June 18 from noon to 4pm CST at Fort Hood military base in Fort Hood, Texas.
In this effort, each adoptive family will show support by sending prayers, cards and care packages to their soldier during deployment, and offer support to the family left behind. At the event, each soldier and their families will meet their adoptive family, and present their personal dog tags to be held as a constant reminder to pray for their safe return. In exchange, the family will present their adopted soldier with a deployment bag filled with essential items such as travel pillows, blankets, toiletries, socks, shower shoes and more. In addition, there will be children's activities along with a performance from GMA Dove Award winners Phillips, Craig & Dean. The members of Phillips, Craig & Dean and their churches are participating sponsors of OPMH.
The Phantom Trackers of Fort Hood is a specialized Long Range Reconnaissance unit under the command of LTC David E. M. Jones. Each soldier has been handpicked from other units to carry out this mission over the next year to 18 months. They are the first of many units that the organization hopes to support.
OPMH is a collective effort of Celebration of Love, Austin area churches and corporate sponsors. Donations are still being accepted. For more information, visit
celebrationoflove.org/events.shtml
or
www.operationpraymehome.com
.