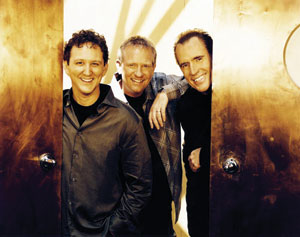 A Welcome Homecoming
Tuesday, November 30, 2004
For many artists these days, doing a worship record is a "side" project from their normal musical fare. But for veteran group Phillips, Craig and Dean—featuring Randy Phillips, Shawn Craig and Dan Dean—making a praise & worship record (Let The Worshippers Arise) was like coming into their own for, what felt like, the first time in a long time.
"Praise & worship is something we have always done," says Phillips. "We have always incorporated worship because we are worship pastors at our churches. When we would go on the road, we treated the audience like a congregation; and we would try and lead them into worship. A lot of our songs could be considered worship by today's standards."
Yet Phillips does admit these projects did provide an exit from image consciousness and an artistic rut. Hard as the group tried—and, according to Phillips, the efforts were quite intense—Phillips, Craig and Dean, which in years past garnered 18 No. 1 radio hits, was never quite trendy enough for the industry in later years or for itself. This led to tension within the group and, eventually, a creative roadblock.
In time, the men accepted their standing and decided to simply relax and do what they do best—lead others into worship. Ironically, by shifting the focus to worship, they gained the relevance that had previously been elusive.
"We were stuck in a sound we just couldn't get loose from," recalls Phillips. "Yet praise & worship music crosses so many barriers, and there was a whole new audience listening to our music. A lot of that is a credit to our producer Nathan Nockels (of Watermark). That guy is good, and he is fresh; and he put a fresh spin on us."
Younger listeners did tune in for the first time, but the biggest "score" was with core, "mature" listeners who could appreciate worship music but not the newer, edgy music. On being a conduit for bridging a gap to older listeners, Phillips laughs and says, "Well, we are not Bill Gaither! If our audience is mature, what is Bill's?" He adds, "It doesn't bother us at all. If we were instrumental in bringing more cutting-edge praise & worship to a more traditional setting, that's great. If that was our mission, then it was worth it."
Scanning the credits of Let The Worshippers Arise makes it clear that the group is set on that musical mission. The trio remains at the forefront and has a few songwriting credits, but notable names from the modern worship world stand out. Nockels contributed in musical ways as well, and his wife and Watermark co-member, Christy, is a duet partner on "Mighty Is the Power of the Cross." That song was co-written with Chris Tomlin and is also featured on his latest, Arriving. "Making Melody" was crafted by Matt Redman, and the title track was penned by Michael Ferrin, who also wrote the Michael W. Smith recorded "Let It Reign."
For Phillips, Craig & Dean, strictly worship recordings will probably wrap up with this album (which follows Let My Words Be Few and Let Your Glory Fall). However, praise songs will remain a prominent part of the trio's future output, just as they always have. "Truthfully, we do bring something to the table that other artists do not," says Phillips. "Not only that we are pastors, but we have lived long enough to see a good life and then some tragic things. We know people are there suffering, so they become like our congregation in the fact that we have a responsibility to take them to the throne room for an hour and a half or two hours."