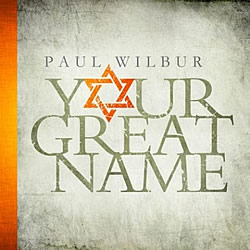 Your Great Name

Your Great Name (Integrity) by Paul Wilbur
FOR FANS OF: Messianic contemporary worship music
3 Stars

Paul Wilbur is a globally recognized worship leader who has recorded in six different languages, so it's no surprise that his new release, Your Great Name, features a cross-cultural sound. Focusing on the names of God, Wilbur's latest expands the musical and theological vocabulary of the listener, making this an important listen on multiple levels. Also included in this collection is a solid rendition of the Dove-Award winning title track.

WE LIKE: "We Will Run"
Song Title
Length
Play
Price
Buy MP3
&nbsp

Song Of Ezekiel




Album: Your Great Name

6:32
$1.29
Buy Song
&nbsp

Prepare The Way




Album: Your Great Name

4:17
$1.29
Buy Song
&nbsp

Great I Am




Album: Your Great Name

5:50
$1.29
Buy Song
&nbsp

Who Can Compare




Album: Your Great Name

5:10
$1.29
Buy Song
&nbsp

Who Is Like You




Album: Your Great Name

4:04
$1.29
Buy Song
&nbsp

Song Of The Beautiful Bride




Album: Your Great Name

5:39
$1.29
Buy Song
&nbsp

Glory Come Down




Album: Your Great Name

5:43
$1.29
Buy Song
&nbsp

We Will Run / Ani Ma'amin




Album: Your Great Name

5:46
$1.29
Buy Song
&nbsp

Mighty And Glorious




Album: Your Great Name

4:12
$1.29
Buy Song
&nbsp

Nobody Like You




Album: Your Great Name

8:13
$1.29
Buy Song
&nbsp

Your Great Name




Album: Your Great Name

4:33
$1.29
Buy Song