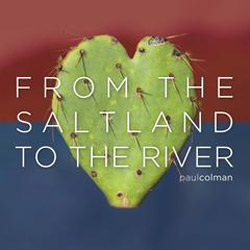 Paul Colman Releases New Studio Album, From the Salt Land to the River
Wednesday, January 16, 2013
Former frontman of Dove Award-winning, GRAMMY nominated Aussie group Paul Colman Trio and one-time guitarist for legendary pop/rock band newsboys, Paul Colman releases his first solo album of original material in seven years.
From the Salt Land to the River
, Colman's most eclectic record to date, was supported with a 36-city tour throughout his native Australia last fall and a 21-city Norwegian tour, kicking off last week.
Produced by Colman and Jeremy Michael,
From the Salt Land to the River
finds its inspiration in Jeremiah 17:5-8, which talks about placing one's trust in God, not man. The album's 14 songs reflect a journey from self-reliance to surrender, divided into "Side A" and "Side B." Each side represents a different aspect of Colman's music, as an acoustic solo performer and as backed by a band.
He explains, "In Europe I mostly play with a band, but elsewhere I'm usually on my own with an acoustic guitar. So, I needed a record that allowed me to be both. Plus, I don't see why I should have to choose. The way people download and playlist music these days actually favors someone like me anyway. It's pretty impossible to get sick of any one style on my new record."
True to his songwriting roots,
From the Salt Land to the River
is lyrically thoughtful. Songs like Australian radio single "Alive" admonish listeners to get off the track of self-sabotage headed toward the river of healing. Country/blues cut "Getting Back to You" echoes a prodigal sentiment, while "The Best Is Yet to Come" offers hope in the midst of trial. "Your Cactus Heart" is a story of unconditional love.
"I like to write songs for people who may not know who they are," says Colman. "I also think people in the faith community need songs that give words and sounds to the brokenness in their life. These are songs from the valley. They are also songs that I hope Christians can give to their friends who would not understand a 'worship' record because they are just not in a place to get it."
The project is available now via CD Baby, iTunes, Amazon and wherever digital music is sold. Colman debuted music from the record on a seven-week, 36-city tour throughout Australia last fall. Last week he kicked of a run of 21 shows in Norway from Jan. 11- Feb. 9. Details are available at
www.facebook.com/paulcolman
or
www.sglive.no
.
For more information on Paul Colman, visit
www.paulcolman.com
.