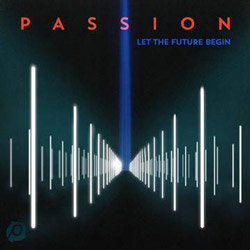 Passion: Let The Future Begin Debuts to Widespread Acclaim and Impressive Digital Sales
Thursday, March 14, 2013
Ushering in the first days of 2013, some of the most notable worship leaders of this generation—Chris Tomlin, Crowder, Matt Redman, Christy Nockels, Kristian Stanfill and Kari Jobe—filled Atlanta's Georgia Dome with songs of freedom and praise as they led more than 60,000 college students in worship at the significant, four-day gathering of Passion 2013. Capturing the power and energy of the conference, the 14-track, live worship album,
Passion: Let The Future Begin
, debuted in the Top 10 on the iTunes®
Overall Albums Chart and is available now at retailers and digital outlets nationwide.
Passion: Let The Future Begin
is named after the anthemic lyrical shout from GRAMMY® winner Chris Tomlin's energetic track "God's Great Dance Floor." The studio version of the song was first introduced via Tomlin's album
Burning Lights
, which debuted atop the Billboard 200 chart earlier this year. The first single off the album, Kristian Stanfill's "The Lord Our God," will go for adds at Christian AC Radio later this month, along with an exclusive music video release. Also featured on
Passion
is a live version of Tomlin's hit, "Whom Shall I Fear [God of Angel Armies]," which currently holds the No. 1 spot on the Billboard Christian Songs chart.
Passion 2013 was a four-day gathering in January of this year, attended by a generation of 18-25 year olds from around the world and led by renowned pastors and teachers Louie Giglio, John Piper, Beth Moore, Lecrae, Francis Chan and others, as well as worship by Chris Tomlin, Crowder, Matt Redman, Christy Nockels, Kristian Stanfill, Kari Jobe and Brett Younker. The conference was profiled in the national spotlight as students representing 52 countries and over 2,000 universities gave more than $3 million to help fund the freedom fight for the more than 27 million human slaves currently in captivity.
Here's just a sampling of the acclaim outlets are offering the new project:
"Electric... Dynamic... Epic. Passion 2013 was a truly monumental moment in Christian music. But more than the recording that makes listeners feel like they're inside the Georgia Dome, the power of 60,000 hearts beating in unison for the sole purpose of making Jesus famous and serving those around a world riddled with injustice, this moment is a testament to God's relentless work in a generation poised to do great things."
-
CCM Magazine
"
Let the Future Begin
continues the tradition of worship's leading artists and songwriters... passionately connecting to the message of their music, stirring others to join in and live out the song. There is not a song on this album that doesn't have a future in the Church, in one context or another."
-
Worship Leader
"After an amazing run of new worship albums to start off the year… along comes some of the best new original worship songs I've heard in the past few years. If you want to experience a spine tingling worship experience then you can't go wrong with the biggest names in the business."
-
New Release Tuesday
"With albums like this… there is a real sense of something fresh happening in worship at the moment. This album has a great mix of songs that will be used in Sunday services and other tracks that will be great in concert settings."
-
Louder Than Music
"Passion's mission is simple, that listeners are awakened to the knowledge of Christ's love for us, and that His name and renown ought to be our one desire that our souls long for. Did this album accomplish this goal with presenting songs that remind us of our purpose? Yes!"
-
Indie Music Vision
"The latest Passion 2013 album is full of poignant and powerful musical and lyrical moments… this album is one to replay over and over again."
-
Christian Music Zine
"...Sure to bring goosebumps. I love the worshipful lyrics reflecting on the character of God. I give this album 8 out of 10 stars."
-
Hollywood Jesus
"After all these years, God has continued to bless this team of worship leaders... With a record this good, the future certainly looks bright."
-
Breathecast
Accompanying the release of
Passion: Let The Future Begin
, Passion will embark on the "Passion: Let The Future Begin" Tour this April for a night of worship. Making stops in 16 cities, the tour will open up the opportunity for people to connect with the vision and heartbeat of Passion in their own city and join together in worship and prayer as a community seeking to make Jesus famous. For tickets and more information, visit
268generation.com/passion2013tour
.
"Passion: Let The Future Begin" Tour Dates
Apr 3 – Gainesville, FL
Apr 4 – Tallahassee, FL
Apr 5 – Jacksonville, FL
Apr 9 – Mobile, AL
Apr 10 – New Orleans, LA
Apr 11 – Auburn, AL
Apr 13 – Greenville, NC
Apr 16 – Lubbock, TX
Apr 17 – Dallas, TX
Apr 18 – Houston, TX
Apr 19 – Baton Rouge, LA
Apr 22 – Augusta, GA
Apr 23 – Charlotte, NC
Apr 25 – Clemson, SC
Apr 26 – Evansville, IN
Apr 27 – Knoxville, TN