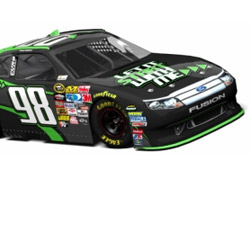 No Other Name's "Let It Start with Me" Theme of New Radio NASCAR Campaign
Wednesday, March 21, 2012
"Let It Start With Me," a song and message made popular by acclaimed vocal group No Other Name, will be the central theme for a new NASCAR campaign initiated by Curb Records in partnership with K-LOVE Radio. As part of the campaign, No Other Name will participate in select NASCAR events, prayer services and concerts.
Curb Records and Christian radio leader K-LOVE have joined together to sponsor the #98 K-LOVE Car piloted by fifth-year NASCAR Sprint Cup driver Michael McDowell for the Phil Parsons / Curb-Agajanian Racing team. Intended to bring an inspirational theme to NASCAR, the K-LOVE Car will be branded with "Let It Start With Me," No Other Name's current radio single and mission initiative. The message is meant to encourage Christians to live out the reality of Jesus Christ in their own lives by impacting their families and communities.
"As Christians, too many times we pray to God to change the world not realizing that change begins with us," says No Other Name's Laura Allen. "'Let It Start With Me' is a reflection of No Other Name's desire to allow God to instigate change in us first, so that He can use us to be change agents in the world."
To find out more about No Other Name's "Let It Start With Me" initiative and how you can make a difference, visit
www.letitstartwithme.com
.