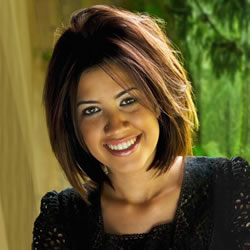 Nikki Leonti
Nikki Leonti was tapped as a soloist in her Corona, CA church choir at age 7, and at 13 she made her first recordings on a tiny local label. Three years later, at 17, Leonti's full-fledged debut LP, 1998's
Shelter Me
, was issued on Pamplin Music. As one of the brightest new Christian artists to emerge in the late 1990s, Nikki Leonti felt the sudden adrenaline rush of success-Number One and Top Five radio hits and high-profile concert andfestival appearances, sharing the stage with esteemed performers such as Russ Taff, 4HIM and NewSong.
But for those involved in public ministry, having every detail of one's life subject to the scrutiny of fans and the media can often be the curse that outweighs the blessing of being able to share your faith from radio, TV or the concert stage. So when, in the Fall of 1999, Nikki and fiancé Ryan Gingerich (who was the lead guitarist of the Christian band Scarecrow & Tinmen) learned that they were pregnant, Nikki felt the devastation of having failed her Lord, her family and friends that much more acutely. The journey from depression and condemnation to grace, forgiveness and redemption is at the heart of Nikki's self-titled new album for Pamplin Records. "My story is the album," Nikki reflects. "The songs that I wrote and the songs that I chose all have to do with what I've learned over the past year and a half. "My parents have always been involved in ministry," she continues. "So I grew up in front of the church, with the attitude that I had to be perfect-I could never let any weakness or sin show in public. So I created this whole exterior and wall around myself."
Nikki explains that at the time she got to know Ryan, she had spent months touring, with no regular contact with her family and friends. She also admits she didn't take the time to establish roots in a local church. "I was in the process of relocating from California to Nashville when my first album came out, and I felt completely alone. I couldn't go to church very often because I was always doing concerts on Saturday nights and I was always flying on Sunday morning. As a result, I lost accountability with people. With all the touring and my schedule in general I had become pretty lonely, so it was awesome to know someone was there who loved me and cared about me. Ryan and I ended up finding ourselves in some compromising situations that I never thought I'd find myself in. I grew up with the whole 'True Love Waits' attitude, so, I thought, 'Never! Never would I find myself compromising those boundaries. But I did. Then I lost my self-esteem and my self-respect.
"Ryan and I had been engaged for several months when we learned of the pregnancy. I knew there was no longer hiding the sin. Had that not happened, I could have continued in sin, growing further and further away from God. Now I'm glad my sin was exposed, even though my first thought was 'how do I hide this?' I felt so much guilt and shame. But God immediately spoke to me and told me in those first days that if I would be completely honest with Him, myself and others, that He would restore me to fellowship and show me the right choices for my future."

The first of those choices was the decision by Ryan and Nikki to immediately get married. "Ryan really wanted to be with me during the pregnancy, which was good, because it was a very tough pregnancy. I lost 25 pounds and was in and out of the hospital a lot. When you can do nothing but lay in bed for five months, you have a lot of time to think. I went from denial to depression, but ultimately God used that time to speak to me about why He died on the cross. So many times I'd spoken from stage about the magnitude of His grace and forgiveness, but until that moment, it was always this abstract thing for others, not for me. I ended up spending my entire pregnancy being taught how to totally depend on God, not only to restore my spiritual and emotional health, but my physical health as well."

"Letting Go," the first single from Nikki Leonti is a song that was birthed at almost the same time as her daughter, Jaslyn Taylee. "The song came out of that period of God telling me to release the depression, the fear, the shame I was feeling and let Him begin the process of rebuilding my faith in Him. I think the day this song started to be written was the first day I began to find peace within myself and could begin to forgive myself for letting my family, my friends, my husband and the record company down; but most of all, for letting God down. Every time I sing this song, I get chills. Every time I'm on stage, I go into my own world with the song. I feel God's presence so strongly."

Nikki says that as she felt that spiritual release, she was inspired to keep a journal, resulting in fragments that inspired several other songs on the album. "I didn't really think about 'I need to write about this.' I would wake up in the middle of the night and go write something in my journal, and then I'd wake up in the morning and look at what I'd written and go 'what was that?!' Then I 'd go to a songwriting session with someone and they'd have a melody that fit perfectly. That happened 3 or 4 times with this album. 'No matter how far I've been/Your love went further for me' from 'Love Is All I Need' is an example. Even when I thought God's arms were too short, that He couldn't reach as low as I had fallen, He went farther for me. I looked for so much completion in things besides Christ-my fiancé; my career; my family. But the only thing that can bring completion to your soul is Jesus."

Even as God began inspiring Nikki to write songs-something she did only once for her first album-she still wondered if she would ever minister in public again. "I never dreamed this could be restored. I went through months of counseling and prayer sessions and accountability sessions with my pastors. None of us were really sure when the time would be right, or even if that day would come. During my time away, I began doing studio sessions for companies like Sony and Disney. And I remember sitting in church one day thinking 'it would be really easy if I didn't have to deal with coming back and whether people would accept me.' But then, one of the worship songs we sang that morning was 'I Will Sing of Your Love Forever.' And I thought 'that's what I'm going to do.' I know it's not going to be easy to face it, but God has restored me and I need to tell people about Christ and what He's done for me.'"

However, with the pressures of maintaining a redeemed lifestyle under the public eye, and her marriage eventually breaking apart, Nikki felt like she could no longer qualify in the Christian music industry and she stepped away from her music career. Divorce was the last straw. But after some healing and recovery time, Nikki was ready to live life again. In 2004, Nikki married Aaron Dame and a year later, her son, Jordan Cole was born. But as she started feeling the need to use her gifts of music again, she wanted to stay clear of judgments and didn't want to fail Christian music fans again, so she eased back into her music career slowly. She toured as a backup vocalist for Carrie Underwood while sharpening her song writing skills, and then in the Spring of 2010, she partnered up with Rich Velonskis to form the group 'Nikki and Rich', where she continues to write and perform secular soul-pop music.