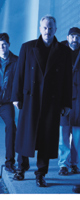 Story Behind the Song: NewSong's Eddie Carswell Tells the Story Behind The Christmas Shoes
Monday, December 23, 2002
It's a touching tale that could be found in the latest installment of Chicken Soup for the Soul. But the story that inspired NewSong's ballad about a young boy's quest to buy his sick mother a pair of shoes so she could "look beautiful/If mama meets Jesus tonight" actually began as an annual Christmas reading that St. Louis radio listeners had come to love.
With the listeners' tremendous response year after year, DC Chymes, a longtime NewSong supporter who also co-hosts the syndicated "Steve & DC in the Morning" show based in St. Louis, faxed Helga Schmidt's short story "Golden Shoes for Jesus," from which Chymes had adapted his own Christmas tale, to NewSong's Eddie Carswell. Chymes encouraged the group to write a song based on the story, believing it could touch audiences' hearts across the country as the story had in St. Louis.
So with frequent songwriting collaborator Leonard Ahlstrom, who was still in NewSong at the time, Carswell began the nearly two-year writing process. "We got together and began talking about it, gave up on it, talked about it again, gave up on it and so on," Carswell recalls. But when it came time to finalize details for NewSong's 2000 release, Sheltering Tree, an impromptu performance of what they'd written so far garnered an unexpected last-minute offer from the group's record label: If they could finish writing and recording the song in a week, the track could still be added to the already finished product as a bonus cut. The frantic re-adjusting of schedules and last-minute recording and production, which made it possible for the song to be included, led Carswell to believe, "God was up to something."
Trusting his hunch that the song could be a hit, Chymes began playing the tune on his radio show, and soon many stations followed suit. Like Bob Carlisle's ballad "Butterfly Kisses" that almost wasn't released on 1996's Shades of Grace, "The Christmas Shoes" also became a surprise hit in the general market, topping Billboard's Adult Contemporary chart.
"We had hoped it would get some airplay and have some impact," Carswell says. "But there was no way we could expect it because God just chose to make all this work out."
And now, whether it's Christmas time or not, Carswell notes that fans continue to request the tune at NewSong's concerts, and that after concerts fans often share stories of what the song means to them. While Carswell can't completely pinpoint the root of the song's appeal, he claims it was the "sincere honesty and pure love this little boy had for his mother at Christmas, when we're usually so caught up in worrying about gifts," that inspired him and Ahlstrom to finish writing the song, which is now featured on NewSong's Christmas album of the same name.