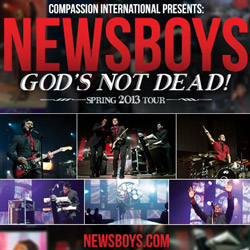 Newsboys Kicked Off Their "God's Not Dead Tour" Spring Leg To Sellout Shows!
Monday, March 04, 2013
Newsboys' hugely successful "God's Not Dead Tour" spring leg is fully underway with eight tour dates already completed - seven which were in front of sellout crowds! With the tour now in full swing, the band is ramping up for more sellout crowds and more added dates to their 30+ nationwide tour. The most updated tour schedule is listed below.
All concertgoers can anticipate getting to hear many of the band's biggest No. 1 hits, such as "God's Not Dead," "Born Again," and their latest chart-topping hit, "Your Love Never Fails," which held the No. 1 spot for seven weeks in a row at Hot AC radio.
Spreading their powerful message that God is certainly not dead to audiences of all ages, this extension of the God's Not Dead Tour is being held over two legs. Building 429 is appearing with Newsboys on the first half, while the second half will feature Britt Nicole. All Things New and duo CAMPBELL will appear on all of the spring dates.
Newsboys are also continuing their high-demand VIP Experience during the entire tour. This special package allows fans a true "VIP" experience, which includes a pre-show entrance and priority check-in, an exclusive autograph session, as well as a Q&A event with the band. VIP Experience ticket holders also will receive collector's edition merchandise, such as a collector's edition laminate and band photo.
Over the course of their 2012 sellout tour, Newsboys' God's Not Dead Tour has impacted thousands of lives, both locally and internationally, making it one of the most in-demand nights of worship, praise and celebration. This leg of the tour is again sponsored by Compassion International.
More dates are being added daily, so be sure to check for the latest updates at
Newsboys.com
and the tour's official webpage at
GodsNotDeadTour.com
.
Newsboys' God's Not Dead Tour Dates:*MARCH
01 - Tacoma, WA
02 - Redmond, OR
03 - Surrey, British Columbia
04 - Yakima, WA
07 - Billings, MT
08 - Bozeman, MT
09 - Idaho Falls, ID
10 - Missoula, MT
14 - Durham, NC
15 - Simpsonville, SC
16 - Knoxville, TN
17 - High Point, NC
22 - Miami, FL
23 - Thomasville, GA
24 - Jacksonville Beach, FL
APRIL
05 - Wichita, KS
06 - Hays, KS
11 - California, PA
13 - Hoover, AL
19 - Troy, MI
20 - Morehead, KY
21 -Lynchburg, VA
25 - McMurray, PA
26 - Saginaw, MI
27 - Johnstown, PA
28 - Cicero, NY
MAY
02 - Cordova, TN
03 – Mobile, AL
05 - Valparaiso, IN
09 - Mt. Vernon, IL
10 – Centerville, OH
*Dates and supporting acts are subject to change