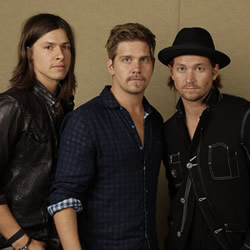 NEEDTOBREATHE Joins the Line-up of the Macy's Thanksgiving Day Parade
Thursday, November 13, 2014
ATLANTIC/WORD RECORDS RECORDING ARTISTS NEEDTOBREATHE JOIN TALENT LINE-UP OF THE 88TH ANNUAL MACY'S THANKSGIVING DAY PARADE®
New Single "BROTHER" is set to premiere at the annual spectacle.
Nashville, TN - November 12, 2014 – Macy's and Atlantic Records announced this week that NEEDTOBREATHE, the South Carolina-based chart-topping rock band will perform in the 88th Annual Macy's Thanksgiving Day Parade®, which takes place on Thursday, November 27th and is seen by more than 3.5 million spectators in New York City and more than 50 million television viewers nationwide.
The band, comprised of brothers Bear and Bo Rinehart, Seth Bolt and Josh Lovelace will debut their new single, "Brother," on board South Dakota Department of Tourism's Mount Rushmore's American Pride float which depicts the natural landscapes and iconic landmarks of that Midwestern state.
"Brother," from the band's 2014 chart-topping fifth studio album Rivers In the Wasteland, will be released as a single in January. The band's previous single, "Multiplied," spent 29 weeks on the chart at NCA, peaked at #5 and remained in the top 5 for 4 weeks straight. "Multiplied" was also nominated for Rock/Contemporary Song of the Year at the 45th Annual GMA Dove Awards. In addition to supporting its latest effort with the Macy's Parade performance, the band is busy finalizing its 2015 tour plans, which will include its first-ever tour of Australia.
Macy's Thanksgiving Day Parade is broadcast nationally on NBC-TV, from 9:00 AM – 12:00 PM, in all time zones.
-----------------------------------------------------------------------------------------------------------------
About NEEDTOBREATHE:
NEEDTOBREATHE is an American Rock 'n' Roll Band from South Carolina, effortlessly woven from the musical traditions and faith of their upbringing in the Deep South of the United States. Made up of brothers Bear Rinehart (vocals, guitar) and Bo Rinehart (guitar, vocals), Seth Bolt (bass, vocals) and Josh Lovelace (keys, vocals), the band hit their big break in 2005 when they signed to Atlantic/Lava/Word Records. The career to follow would include four full studio albums, chart-topping cross-genre success, multiple headlining tours and media coverage on CONAN, The Ellen DeGeneres Show, The Tonight Show with Jay Leno, Late Night with Jimmy Fallon, Late Show with David Letterman, CBS, MTV, FOX and much more. The band's critically acclaimed fifth studio album, Rivers In the Wasteland was released on April 15, 2014 and debuted at #1 on the Billboard Christian Album Chart, #3 on the Billboard Top 200 Chart and #1 on the Rock Albums Chart.
About the Macy's Thanksgiving Day Parade:
With more than 50 million viewers across the country and more than 3.5 million spectators that line up along the streets of New York City each year, the Macy's Thanksgiving Day Parade is a national icon that has grown into a world-famous holiday event. For more than 80 years, the Macy's Thanksgiving Day Parade has marked the official start of the holiday season. Growing in size and scale over the years, the Parade proudly marches down a more than 2-mile route in New York City with over 8,000 participants in tow including Macy's employees, their families, celebrities, athletes, clowns and dance groups spreading holiday cheer. The Parade also features America's best marching bands, fabulous floats and Macy's signature giant helium character balloons. For more information on the Macy's Parade please visit www.macys.com/parade