NEEDTOBREATHE: The Road To Happiness
Friday, July 15, 2016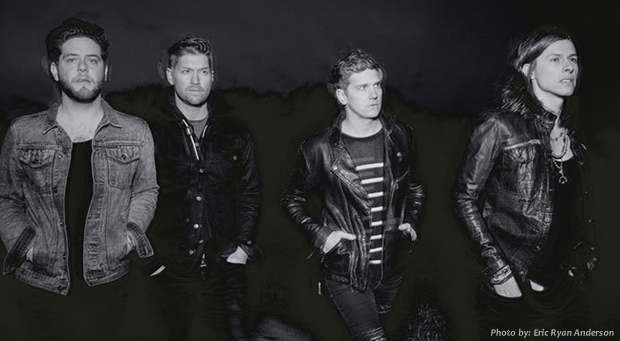 It's the age-old story that's defined rock 'n roll since the beginning of time:
Friends form band.
Band finds success.
Friends argue over creative differences.
Band breaks up.
And just like that, another incredible talent gets memorialized.
But what happens when something changes the storyline? What happens when you're on the verge of breakup and it becomes breakthrough? If you're NEEDTOBREATHE, you change the ending to the story. You don't let the past define you. You move forward with a new perspective. And you write about it, of course.
Hailed by critics as one of the best efforts of their career, 2014's Rivers In The Wasteland will go down in history as a landmark album for NEEDTOBREATHE. Division that nearly led to the band's demise resulted in a stripped-down, vulnerable project that allowed the acclaimed rock outfit to check a massive item off their bucket list: their first-ever GRAMMY® nomination. Moreover, the album garnered the band the highest-charting single of their career with radio smash "Brother" and a slew of high-profile media appearances. If devoted fans loved them before the album, they were hanging on the band's every word once the studio set released.
However, while members Bear Rinehart (lead vocals, guitar), Bo Rinehart (guitar, vocals), Seth Bolt (bass, vocals) and Josh Lovelace (keys, vocals), were proud of the songs that defined Rivers, they weren't nearly as satisfied as fans.
"I think we felt like we could make a better record, to be honest," Bear candidly reveals. "What we were able to do on Rivers In The Wasteland was really put raw emotion on a record, but we weren't able to work on it that much because we were fighting so much. It feels like we made a really simple record because we had to, and because of that, a lot of the emotion came across. I think that's why the record connected with people; but I think in terms of what we feel like we're capable of, we felt like we were capable of more."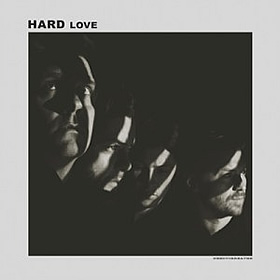 Anyone who's seen the band live knows the South Carolina natives are capable of scaling incredible heights. If Rivers felt like the insurmountable struggle they almost couldn't work through, new album H A R D L O V E (Atlantic Records) feels like sweet redemption.
"All of us put our families though that same fight that me and Bo were going through, and that includes Seth and Josh," Bear says. "It was a really tough time, and I think we just came away with an appreciation for what we do and for the opportunity to do it; and I think that's what H A R D L O V E's really about."
NEEDTOBREATHE spent the better part of ten days holed up in a secluded cabin in the North Carolina mountains to commence the process for the new album, which ended up taking them nine months to complete. They hired an in-house chef and filled the multi-story residence with every instrument imaginable, creating a space for them to experiment and dream—no idea too wild or weird, and the more outside-the-box the better. Both Rinehart brothers have small studios in their homes, so they were able to come to the makeshift band retreat with a few rough demos. Fresh songs were also written once the band was gathered.
"We started to make this record as friends again and as people who just didn't really care about what the results were, which is a very freeing thing," Bear offers. "That's just something that would not have been possible the last couple of records… It was just us having fun together again. It feels like we're in a garage band."
ROCK & SOUL
Born and raised in the small town of Possum Kingdom, South Carolina, the members of NEEDTOBREATHE have always prided themselves on the band's southern roots, preferring to keep their rock 'n roll swampy and their instruments as pure as the terrain of their childhood. But from the very first distorted reverb of H A R D L O V E, it's obvious we're not in the wasteland any more. Banjos, mandolins and steel guitars take a back seat to colorful synth and electric vibrancy.
"The different direction was definitely intentional," Bear explains. "We went [there], honestly, because we wanted to let people in a little bit more. I think inspiration sometimes for us is, 'How do we make this just cooler than our audience? How do we make them come to us?' We get really caught up more in the flavor than just songwriting, so we tried to balance that out on this record. There's some songs you can like on the first listen, which was very intentional."
"Happiness" proved to be one of those instantly likable tracks. Yet, choosing the soulful, gospel-tinged single to introduce the band's bold new sound was a risky move.
"It's sort of a lynchpin, because it was the first song we put out, so we felt like, 'Well, if [fans] are into this song, they're going to love this record; and if they're not into this song, we could be in for a long road,'" Bear says, laughing. "We've always felt like we made soul music. If you go back to 'Washed by the Water' and 'Lay 'Em Down,' it felt like that. There was always that vibe, but how do we get more modern with that style? And that's what, to me, 'Happiness' is."
Newest member Josh Lovelace also had a hand in contributing to the new sonic direction. Although Lovelace has backed the band on keys and vocals for several years on live shows, this is the first studio album he's had a hand in creating as an official member of NEEDTOBREATHE.
"[Josh] has really come into his own with that stuff, so we lean on him much more; whereas it used to be he kind of played the parts that I wrote," Bear says. "Now, we really look to him to bring inspiration and new sounds."
PERSPECTIVE OF REST
In addition to slight line-up changes, so much has changed for the band since they first started playing shows in college. All are now married; three out of four are fathers of young kids, and H A R D L O V E reflects the maturity of four men living out their faith and lessons learned as brothers, friends, husbands and fathers. "I think it's maybe a nod to life," Bear says of the title track, admitting, "All of us are going through a growing up time."
Growth has also come as a direct result of the past few tumultuous years, which have, in turn, changed how they approach their artistry and run their business from top to bottom. Prioritizing the mental, physical and spiritual health of the band and putting relationships first has meant cutting down the number of shows they play each year, a challenge for the hardworking act long known for their due diligence on the road.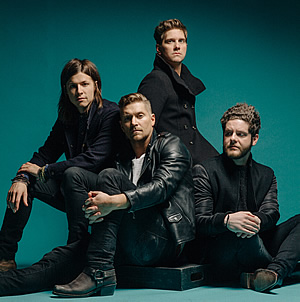 "We went from being a band that was doing 150-200 shows a year. We did that seven years in a row, and that just killed us because there's no perspective when you don't rest. That's the key that we've learned," Bear offers. "We started to realize working from 10 a.m. to 5 a.m. every day, you get into this wormhole. You have no idea what you're doing anymore. You have no 30,000-foot perspective, and so I think that's something we feel like we had to have."
Rest has become imperative for the band, as has time with their growing families at home in Charleston. That's also caused a shift in the recording process. For Rivers, the band found themselves recording in the usual creative hubs, spending two months in Los Angeles, two months in Nashville and another two months in New York. That rounded out to six months away from home, in addition to extensive touring.
This time, they made their own Plantation Studios home base. "We just made the schedule conducive to our lives," Bear shares. "We made 95 percent of this record in Charleston because we wanted to be around family at night. We needed to go home to our own beds."
Producers Jon Levine (Melissa Etheridge, Cher Lloyd) and Dave Tozer (John Legend, Kimbra) — who co-produced H A R D L O V E with the band — both traveled to Charleston to work on the project.
When the band's on the road, their wives and kids travel with them as their schedules allow. Yet, Bear says it's different for every family — depending on their wives' personal preferences and their kids' various ages.
As for the band members themselves, camaraderie on and off the road has become something to be treasured and enjoyed. "I definitely have faith and trust in the rest of the band. I'm not concerned about what's going to happen as long as we're working together," Bear says, adding that they've emphasized the importance of giving every member of the band a voice in the creative process.
"It's tiring, what we do. It's a creative thing, so it's very stressful, and everybody's going to have opinions. You're going to have a wrong opinion. I'm certainly guilty of it," he admits. "You need confidence in order to create good things, but you have to have people around you who are empowered to say, 'Hey man, you're off you're rocker. You're over the edge now, and you need to come back.' And I think that was probably one of the biggest things that's helped us.
"The other thing that was really key was just empowering everybody in the band to have a say," he continues. "I think, for a while when Bo and I would get into a fight, everybody left the room. So it was important for us to get everybody in the room and say, 'Hey, sometimes I'm going to be wrong; sometimes he's going to be wrong; sometimes neither of us is going to be wrong — it's just going to be muddled; but we need you guys to speak up and be the peacemakers in the situation.' I think that's something that really has changed a lot about what we do."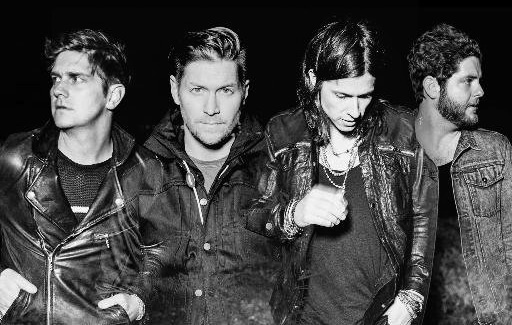 COMPADRES FOREVER
Moving forward, the band is focused on allowing their creativity to emanate from their unwavering bond as brothers and band mates. And on H A R D L O V E the group is reinventing itself with an aggressive new sound filled with smoky choir vocals and flashes of brass. They'll hit the road August through November on their second annual Tour de Compadres with friends Mat Kearney, John Mark McMillan (leg 1 only), Parachute (leg 2 only) and Welshly Arms. Their fellow compadres' high regard for the band is only further evidence that while the members of NEEDTOBREATHE may have evolved through the years, the integrity with which they approach their craft has remained unchanged since the release of their debut in 2006.
"I love their raw electricity, honesty, and the way they seem to revel in the moment," remarks Compadres Tour mate John Mark McMillan, a longtime friend and fan of the band. (Bear was featured on "Monsters Talk" from McMillan's The Borderland Sessions in 2014.)
The highly-anticipated outing will mark Mat Kearney's first time to tour extensively with the band, though they've been friends for some time. "When we were both starting out, NEEDTOBREATHE and I opened for an artist in really small rooms playing for just a few dozen people a night. Back then I quickly could tell that they where humble, genuine guys. A lot has changed for both of us since then, but they are still the same," Kearney reflects. "I think they are amazing songwriters and even better live than their records. I'm excited to finally play some shows with them in some rooms a little bigger than when we first started."
Those "rooms" will include a 10,000+ capacity venue in their hometown of Charleston and a second stint at Morrison, Colorado's infamous Red Rocks Amphitheatre, one of the band's favorite show's from 2015's Tour de Compadres.
"We're just incredibly inspired right now and excited about playing again," Bear shares. "I feel like this record is going to change a lot of things for our band, even though we're completely comfortable with the success level the band is at in our career. We don't need it to be anything else."
Fans will undoubtedly show up to concerts across the nation in droves eager to hear the new songs from H A R D L O V E live. But even if they don't, NEEDTOBREATHE will play to the crowd as if the venue's sold out. They'll be giving it their all every night, because they're intent on living a bigger, better story. Together.