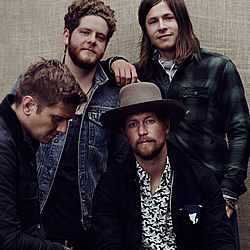 NEEDTOBREATHE: Into The Woods
Wednesday, May 13, 2015
Ask any true
NEEDTOBREATHE
fan about the band, and they'll tell you two things:
1. The
Outsiders
is their "career"album.
2. You have to see them live.
NEEDTOBREATHE has had fans and critics alike talking since their debut in 2006, the same year they appeared on the cover of
CCM Magazine
for the first time, an unprecedented feat for a then unknown band from South Carolina. Ever since, the group has managed to be a much buzzed-about topic in music circles — often evoking praise for their superior musicianship and sometimes igniting controversy with their mainstream appeal. But even the naysayers seem to agree on one thing: the band's live show is simply unmatched.
Fans have been clamoring for a live record for years, and last month, one year following the release of the band's highly-acclaimed Rivers In The Wasteland (Atlantic/Word), NEEDTOBREATHE released,
Live From The Woods
, a recording that chronicles not only a one-of-a-kind concert from last fall but also showcases their undeniable musical talent.
In truth, NEEDTOBREATHE — comprised of
Bear Rinehart
(lead vocals, guitar),
Bo Rinehart
(guitar, background vocals),
Seth Bolt
(bass, background vocals) and
Josh Lovelace
(keys, background vocals) — has wanted to make a live album for some time. In fact, they've been recording every show for roughly the last five years. Much like a winning team scrutinizes their moves after every game, front man Bear Rinehart — who served as a wide receiver for the Furman University football squad during college — says the band diligently studies their "plays"after every performance.
When their most recent tour in support of
Rivers In The Wasteland
, ended, it was time to comb through the playbook. "We circled a bunch of dates on the tour and said, 'OK, what were the best nights that we enjoyed the most? Where did the crowds seem like they were the craziest?'That kind of thing,"explains Bear. "We've tried to make live records before, but we never felt like everything lined up. We just didn't play well enough; the set list wasn't right, or something would be off about it. We really wanted to make this first one a good representation of the band, and Nashville just lined up perfectly."
Girl Named Tennessee
Last September, nearly 5,000 people showed up at The Woods at Fontanel, an outdoor amphitheater located just outside of Music City on the former property of country legend Barbara Mandrell. The stage is literally nestled deep in the woods with concert attendees cocooned inside the intimate space by a forest of trees.
"I think the outdoor setting really suits us well. We love playing an amphitheater setting or a festival,"remarks Bear. "It was one of the most," he pauses, "magical nights that we've ever been a part of as a band."
NEEDTOBREATHE took the stage just as the sun was setting and played long into the moonlight with a set that showcased reimagined versions of fan favorites and new selections. The album's cover art encapsulates the rustic, southern charm of the evening with a drawing of an owl, illustrated by Bo, who often designs album covers, T-shirts and posters for the band.
During the comprehensive 17-song set, which featured an acoustic version of the band's current single "Brother,"the group covered "Float On"from Modest Mouse and ZZ Top's "Waitin'On The Bus (Have Mercy),"among others, displaying their diverse musical tastes. In addition, there were plenty of full-on jam sessions, culminating in a confetti-filled moment on "The Outsiders."Bear credits the crowd's electric energy and the unique venue as the primary keys to making the evening truly spectacular…
To read more about NEEDTOBREATHE's first live album, why brothers Bear & Bo Rinehart went through a season of not talking, and more —
CLICK HERE to read the FULL STORY in the May 15 edition of CCM Magazine (FREE until August 14, 2015 — just a small download fee for the entire edition after 8/14/15)