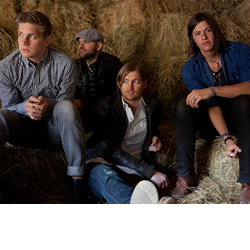 Thursday, November 15, 2007
Tuesday, October 04, 2011
Song Title
Length
Play
Price
Buy MP3
&nbsp
Keep Your Eyes Open (Album Version)
Album: Keep Your Eyes Open Ep (Songs From The Reckoning Sessions)
4:10
$1.29
Buy Song
&nbsp
Keep Your Eyes Open (Acoustic Version)
Album: Keep Your Eyes Open Ep (Songs From The Reckoning Sessions)
4:05
$1.29
Buy Song
&nbsp
Cops (B-Side)
Album: Keep Your Eyes Open Ep (Songs From The Reckoning Sessions)
2:43
$1.29
Buy Song
&nbsp
Disaster Road (B-Side)
Album: Keep Your Eyes Open Ep (Songs From The Reckoning Sessions)
4:31
$1.29
Buy Song
&nbsp
Solomon's Ashes (B-Side)
Album: Keep Your Eyes Open Ep (Songs From The Reckoning Sessions)
3:21
$1.29
Buy Song

NEEDTOBREATHE MUSIC VIDEOS
How about submitting your videos.

Clip from an interview with NEEDTOBREATHE. Listen as they talk about their song, "Lay 'Em Down" from off their album, The Outsiders.
---
Bear Rinehart of NEEDTOBREATHE talks to CCM Magazine about their new album -- The Heat -- how this record is different from their previous record, touring the country and their live southern-boy show. Theme music provided by Storyside: B.