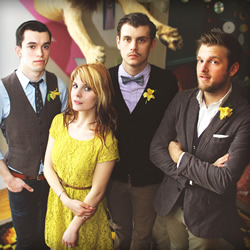 The Fringe Spotlight on MIKE MAINS & THE BRANCHES
Monday, April 01, 2013
If fans hear something "magical" on the new full-length album from Mike Mains & The Branches, that's because the artist felt it first.
Mains, the Michigan rock band's primary songwriter, spent the last two-and-a-half years trying to develop the songs for their sophomore album. After finding the right songs, Mains targeted close friend Matt Hoopes from Relient K to play on
Calm Down, Everything Is Fine
. The end result, he says, was beautiful.
"When it had come time to make the EP, which was originally what it was going to be, I had called Matt and asked whether he would consider playing guitar on it," explains Mains. "He came down and we got into the studio and we started playing through the songs.
"When Tom Petty talks about the first time he played with his band and had the feeling like the heavens parting, it felt just as magical playing with him [Matt]. We just knew there was something really special going on."
Mike Mains & The Branches debuted in 2010 with
Home
, a thoughtful collection of rock songs that walked a fine spiritual line that kept the songs honest and vulnerable. It's Mains' ability to speak to matters of faith in a meaningful way that gives
Calm Down
the same appeal.
"I think I used to think about it a lot more," Mains says about writing about his faith. "There was even a point in our band that we were so intentional about being tagged as a particular genre of music. There was one person in particular who said, 'Be careful of these lyrics.' At that point I thought, 'No, I'm just not going to do that.'"
Mains says that being authentic and true to himself was more important than making any adjustments one way or the other for the marketplace.
"At the end of the day, I am who I am. I prescribe to the Christian faith," he says. "I'm unashamed where I stand on Christ, but I also don't want to use that as a crutch to buy our music. I just want to write what I'm going through, so if that's a struggle with doubt or unbelief or whether it's about relief, songwriting is the way to work through both of those.
"I hope that it's always there for those who have faith and those who do not. I think it helps to ask questions and be honest with ourselves about what any person is asking."
And so, in and around a culture that either prefers to conceal authenticity for the sake of saving face…or runs 180 degrees in the other direction, living with a false sense of no consequence, Mike seems to have found a sweet spot. And, as it turns out, the intersection of humanity, doubt, grace and hope is nothing short of magical.