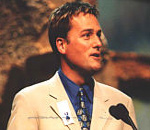 Story Behind the Song:
Michael W. Smith was in the midst of recording his 13th album when the Columbine High School shootings unfolded. Asked to participate in the national memorial service a few days after the shocking April 20, 1999 event, Smith says he felt inadequate, yet was compelled to go.
At the service in in Littleton, Colo., Smith found himself being comforted by Brad and Misty Bernall, the parents of victim Cassie Bernall. "I was blown away by their demeanor," Smith says. "They were so strong."
In the weeks that followed, Smith was drawn to the story of Cassie's confession of faith in God moments before her death. "I literally could not sleep," he says. "Night after night I laid awake, just thinking about Cassie." So Smith, seeking emotional healing, entered the studio and wrote a melody, but "…I had to find someone to help me articulate what I was feeling. For some reason I called Wes King."
"I asked Michael what it was that he wanted to sing about," King recalls. "He said he really wanted to sing about the whole Littleton thing, but he was leery of doing it because he didn't want to exploit a tragedy."
King took Smith's music and added the now-familiar chorus, but with completely different verses. When it came time to play the finished project for Smith, King left the verses off and simply played the chorus. He then asked, "What if this were about Cassie?"
Smith was still wary but told King to pursue it further. After hearing the finished work, Smith confessed to being in awe and contacted the Bernalls, seeking their blessing. "We were very moved by the powerful lyrics and music [they] used to convey our daughter Cassie's faith in God," Misty Bernall told CCM MAGAZINE.
"This Is Your Time" became the title song of Smith's November 1999 album and landed at No. 1 on THE CCM UPDATE's Inspirational and Adult Contemporary radio charts.
When it was time to produce a video for the song, Smith was again hesitant. "With a song like this, it is so delicate… I didn't want there to be a hint of, 'Oh, this is going to take my career someplace.' I wanted this video to be honoring to Cassie's mom and dad, and to her family."
Veteran photographer Ben Pearson and West Coast director Brandon Dickerson co-directed the project. "I saw a very honest approach being taken with it," Pearson says. "The overriding theme was that everybody involved was in a place of brokenness. And out of that brokenness I think God was able to get what He wanted. There were certainly no egos."
Smith echoes Pearson: "This is a story about a young lady who lost her life... Yes, it was tragic. But there can be healing. That's what this song, this video, was all about."
According to Marc Giguere, director of programming for Z Music Television, "This Is Your Time" received the strongest viewer reaction the network has ever experienced. "When our review committee first viewed the video… people were weeping. It is not often you get that kind of reaction."
The video can be viewed on the Web at www.reunionrecords.com/mws/.