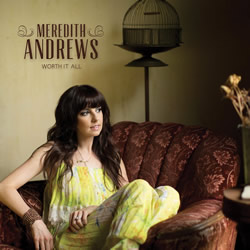 [CCM Magazine] Meredith Andrews: Willing & Ready
Tuesday, January 01, 2013
After chatting with Meredith Andrews on the phone for half an hour, one thing is perfectly clear — she is a busy momma, much like me, who is learning the fine art of juggling work, family, ministry and the rest of life. In other words, it was just like talking to a friend I'd known for years. You know, the kind that you tell everything, knowing that that person is always a safe place because, chances are, they've walked a similar path.
That's Meredith.
No pretense here. Although she has more reason than most to carry her head high — from her killer vocals to her beautiful hair (the kind that most of us will never achieve without the help of a professional) and a loving family and church with another baby on the way — Meredith is all too aware that the blessings in her life are a gift. And, to be sure, she receives and shares them with gratitude and humility.
"I know that God has called me to be a wife and a mom and to write songs for the church," she says confidently. "I just have to be wise with my time and trust the Lord with the rest. He'll give me the capacity and grace to do what He's called me to do."
It's that confidence in God's sovereignty and leading that shaped her latest album,
Worth It All
, which releases January 22, 2013.
"When we first started the record about two years ago, the direction we were going wasn't quite what I had in mind," she shares. "We had four or five songs done and after listening, I just had to be honest and say that it wasn't really where my heart was. I felt like I was writing songs to fill space."
So, she returned to the drawing board, so to speak, after letting the label know that she was going to do a worship record.
"That's who I am," she says. "I don't even know what another direction looks like." Between co-writing in Nashville and several earnest prayers asking God for songs, the real Meredith came pouring through.
"I wanted to write songs for the body of Christ to sing back to the Lord in corporate worship, but I felt kind of guilty because I hadn't asked Him for songs," she explains. "I could hear him saying, 'You have not because you ask not. Ask me for songs, cause I have a lot of them.'"
She was then, in her own words, amazed, humbled and overwhelmed with the creative outpouring from the Lord. Soon, she had songs that were reverent and passionate and simple, yet profound.
"The song, 'The Gospel Changes Everything,' is God's story. It's the beauty of the story of Jesus," she says. "We were talking about the Gospel and how it can truly transform the lives of people. Nothing added, nothing taken away."
Knowing full well first-hand the power of God in a life, Meredith is experiencing anew every day how He has placed her on this path and entrusted her with a family to love and children to raise.
"I'm still learning the balance of family and ministry, but when we're not doing music on the road, we're doing it at our church. It's just so engrained in who we are," says Meredith, referring to her husband who is the music director and worship leader for Harvest Bible Chapel in Chicago. That's also where Meredith serves as a part time worship leader, where she was hired immediately following her graduation from Liberty University.
Today, as she continues to navigate the waters of recording artist, mom, wife and minister, she's everyday seeing God's faithfulness in her dreams and hopes coming true. From a little girl who wanted music more than clothes growing up (seriously!), it's easy to see God's anointing on her voice and her ministry.
"When I was 17, I went to a Rebecca St. James concert and she had some type of call forward," she remembers. "I went up front and remember praying for whatever He wanted with this music thing. I told Him, 'Whatever you want, I want.' And I heard Him answer, 'Be faithful where I've placed you. Be faithful in the little things and I'll open the doors.'"
And from ministry in college to being on staff at Harvest to her latest record with Word, Meredith has heeded that command and her faithfulness is now bearing rich fruit. The soon-to-be mom of two (she's due early 2013), is a shining example of faithfulness honored, gifts blossoming and the love of God come to life. Despite the busy-ness, the fatigue and the constant juggling act, her latest project really says it all — without question, He and the life He has for us is most definitely
Worth It All
.