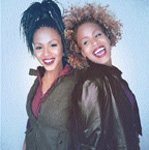 Story Behind the Song: Shackles (Praise You)
For even the most brilliant wordsmiths, the frustrating phenomena of writer's block can bring the creative process to a halt. But for Erica and Tina Atkins of Mary Mary, an encounter with writer's block didn't prove to be detrimental. In fact, with a little patience and persistence, their bout led to the soulful sounds of their 2001 Dove signature song "Shackles (Praise You)" from their Grammy Award-winning album Thankful.
Producer Warryn Campbell's studio was "kind of like a little side room connected to the house directly next to the garage," Tina recalls, "and we were trying to write and trying to write, and nothing was coming." So after a couple of hours with no ideas translating from pen to paper, Campbell left to take a shower, and the girls retreated to another part of the house. When Campbell returned to the makeshift studio, he had an epiphany of sorts and began to sing the harmonies that eventually became "Shackles."
While the song, a modern-day account of the children of Israel in bondage but set free, was originally written for The Prince of Egypt soundtrack, the duo liked it so much they decided to keep it for their own album. Tina says the tune relates the Exodus story in a contemporary way, addressing bondage people have in their lives—whether it's bad relationships or the stresses of family and work.
"Take the shackles off my feet so I can dance/I just wanna praise Ya, just wanna praise You/You broke the chains, now I can lift my hands/And I'm gonna praise Ya, I'm gonna praise You."
It's a theme to which people seem to relate. A young girl in Alaska was paralyzed from the legs down and confined to a wheelchair. She told Erica and Tina that when she listened to their CD and "Shackles" came on, her foot began tapping and starting to move for the first time. After hearing her story Tina says, "If this song can motivate somebody or encourage and uplift somebody to the point where it's making a leg function that's not functioning, then God is really great. Although I don't really know how the incident happened, I do know that healing can come through music—and I was thrilled that Mary Mary's song could be a part of it."